A picturesque spot found in the Nadder Valley in Wiltshire, just a few minutes from Tisbury village and train station, The Compasses Inn is a quintessentially British pub with rooms, steeped in history that dates back to the 14th century. The location feels remote and beautiful, with a handful of cottages nearby and 360-degree views of farmland. 
 
On arrival, expect a genuine big smiley welcome as you stoop slightly to enter the ancient building. Take in the large inglenook fireplace to the right and a petite bar in front. Age-old oak beams, dark wood benches and antique farming paraphernalia adorn the cosy space. The Compasses Inn is as ye olde English as you can get, and restaurateur Ben Maschler, who acquired it in 2017, has preserved the charm of years gone by.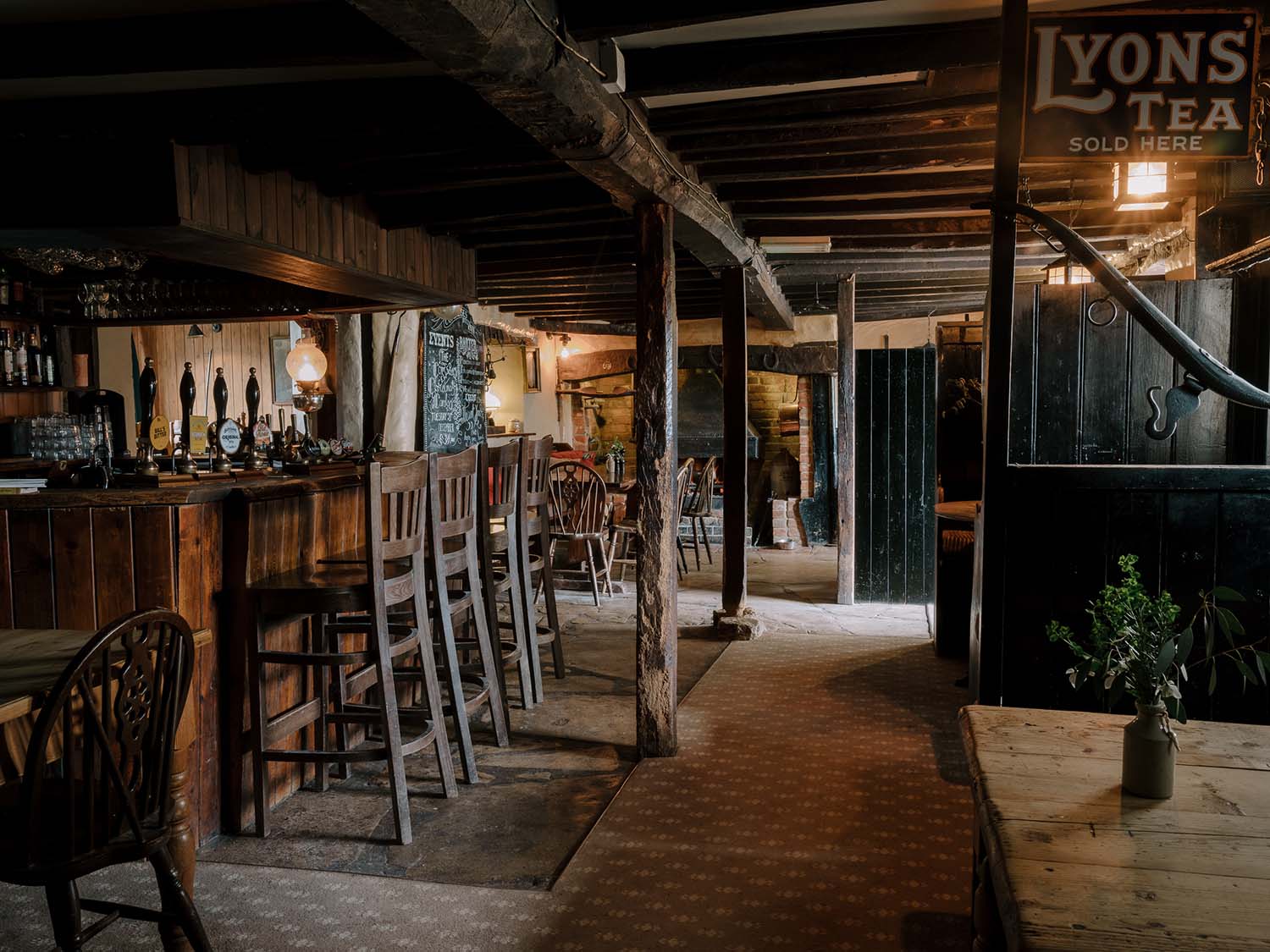 The food offering at The Compasses Inn makes it as special as its surrounds. Chef Paddy Davy has kept locals and visitors exceedingly happy with an exceptional food offer with a daily menu that celebrates the best of local produce. Neighbouring suppliers include Kensons Farm (organic vegetables) and MIH & PM Gray (beef and mutton). Guests can even bring in freshly caught fish, game and homegrown produce in exchange for credit behind the bar. 
We tried the lamb Sunday roast and loved the uncomplicatedness of the plate. Each morsel tasted fresh and was cooked to perfection. When a green bean is crisp and buttery, and the lamb melts, you know the kitchen knows what they're doing and cares about each aspect of the dish. The giant Yorkshire pudding instantly puts a smile on your face, and the mint relish——with pickled mint, lilliput capers and anchovies——gives the entire plate a fresh and aromatic springtime lift. It was so delicious we asked for the recipe.
The menu, in general, is classic but with a loving twist. Notable is the Brown & Forrest smoked mackerel, the wild venison lasagna, the grilled celeriac, freekeh and herb salad and candied hazelnuts. There is joy on the menu, and your tummy will thank you for stopping by. 
For the perfect countryside escape, The Compasses Inn also boasts a handful of rooms, as well as the Plum Cottage for families. Ben's wife Jane has refurbished all the bedrooms. In contrast with the pub, the interiors are modern Scandi-inspired.
The cottage is bright and light with hints of bold colours. It is inviting and well equipped with mid-century furniture, the latest tech and all the coffee you will ever need to grind. Added touches include colourful woven textiles and Wallace & Sewell blankets, embroidered wall art, lots of unique lamps and, of course, a wood burner for extra cosiness.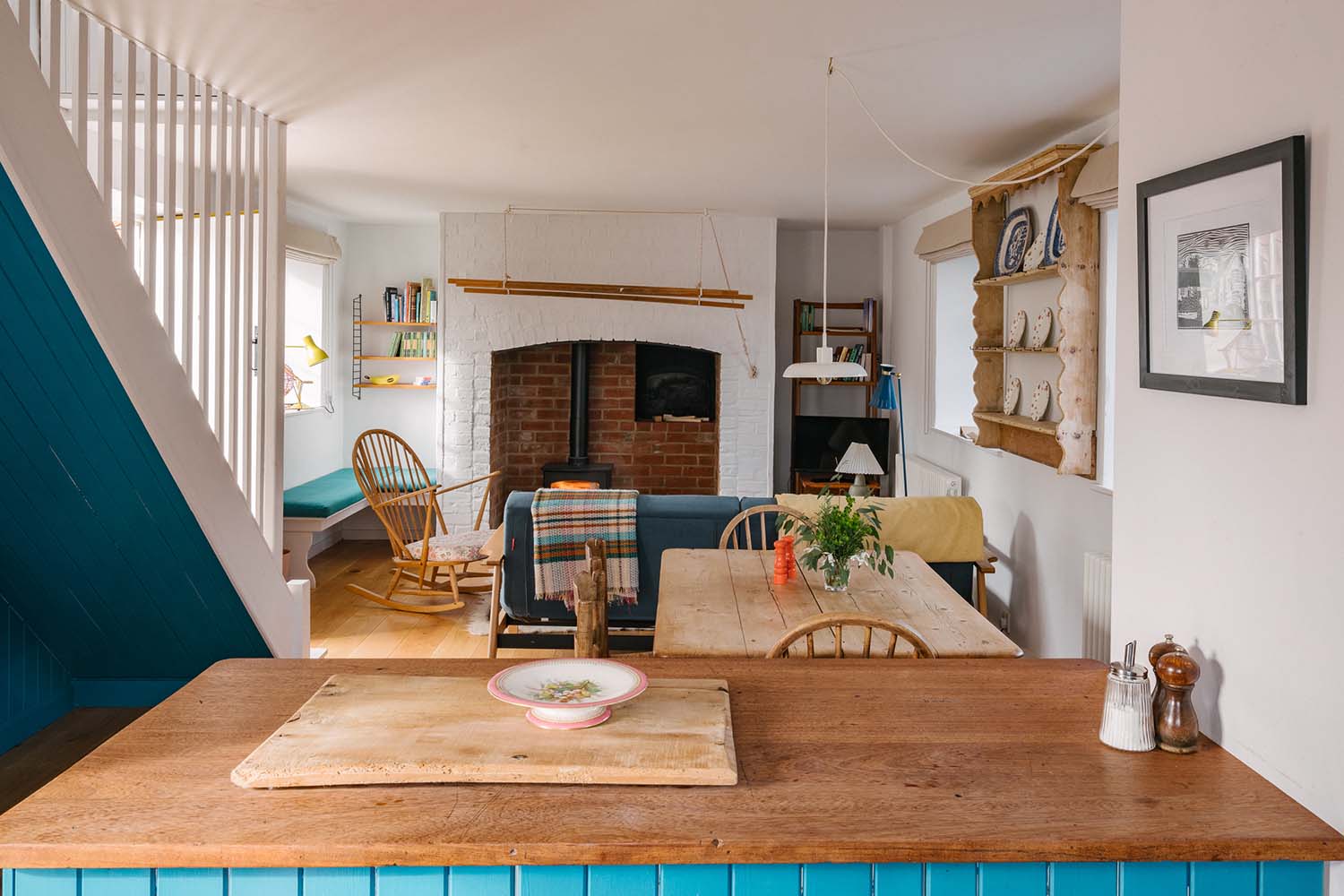 The pub is dog-friendly, and the sizeable safari-style tent in the garden is ideal for alfresco dining, letting dogs and kids run around and enjoy a pint with stunning countryside views. The Compasses Inn offers excellent value too, with rooms from £95, Sunday dinner at £12.50 and a decent, affordable wine list.
So, if you're after a weekend away, a culinary or countryside escape, this countryside retreat could not be more ideal. There's direct trains from London and Exeter, Messums Gallery and Wardour Castle are just ten minutes away, and a further thirty-ish minutes by car is Frome, Stonehenge, Longleat and Stourhead. And, if you want to keep it local, the village of Tisbury is delightful and worth a wander. Of course, there is also an abundance of countryside to roam, explore and forage.
Drenched in history, impeccable and honest cuisine, and fresh and inviting accommodation, Tisbury's Compasses Inn is the British country pub your mind conjures but reality so rarely delivers.