With a name that cheekily reminds guests not to take themselves or the wines they sup too seriously, FOOL Singapore is a modern wine bar that champions unpretentious and explorative drinking. The brainchild of chef-owner, Rishi Naleendra, and group beverage manager, Vinodhan Veloo, FOOL was born out of a desire to create a wine bar that seeks to debunk the stigma and pretentiousness around wines by presenting them in a fun, refreshing, and engaging way.
"I believe in showcasing the diversity that is available beyond the international and traditional styles of wine," explains Veloo, "and prefer not to limit our wine selection to any arbitrary requirements based on a wine's agro-philosophy, be it conventional, natural, organic or biodynamic. As such, the various categories bring different wines together by highlighting the commonality that is found not just in the wines' provenance or its grape variety."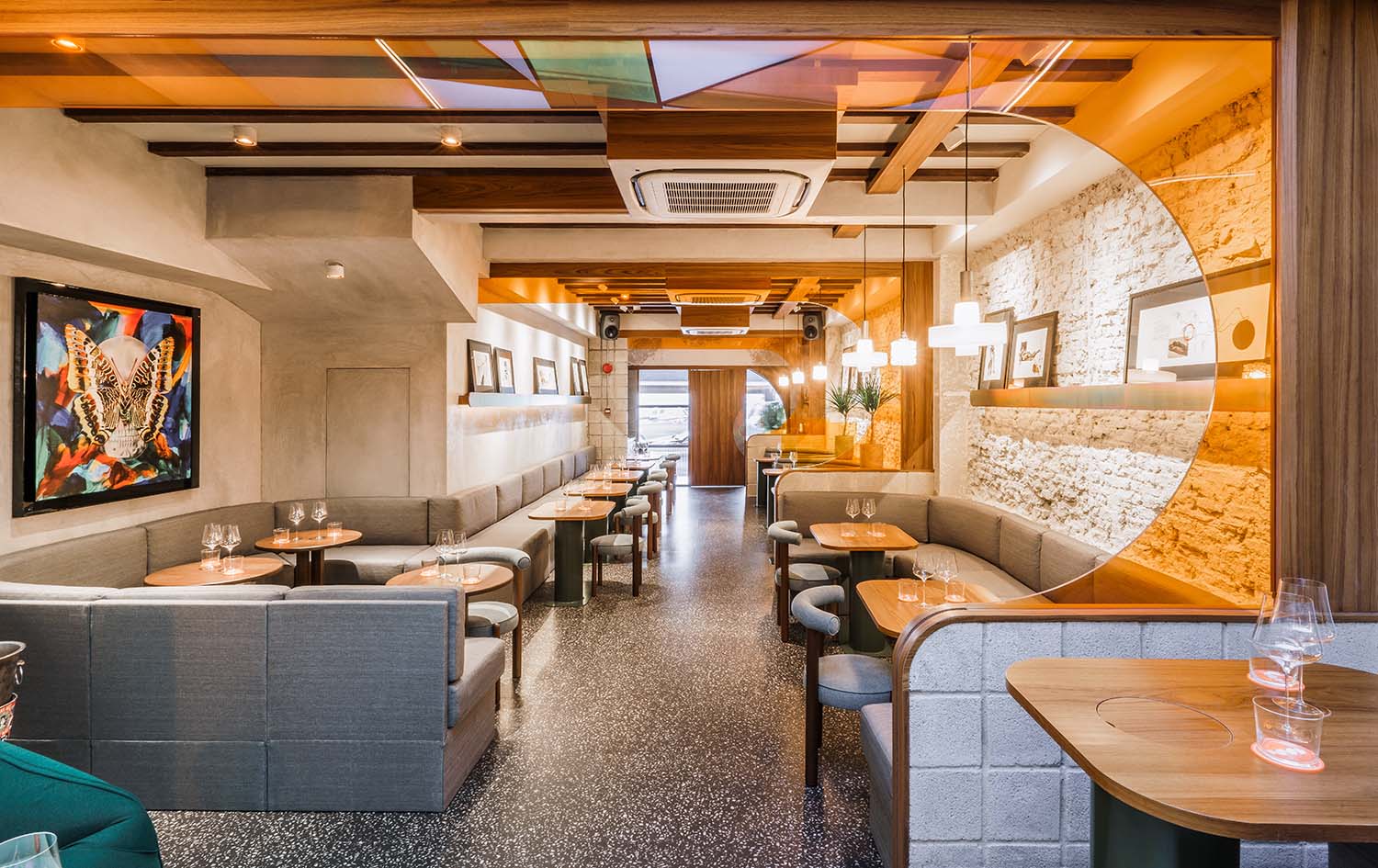 Located on Boon Tat Street in Singapore's Central Business District, an edgy and dynamic wine list celebrates diverse artisanal and quality-focused wine producers from around the world. A playful food menu, meanwhile, includes dishes such as Dark Rye Rolls with Vegemite Butter, Buttermilk Fried Quail with Sriracha Mayo, and Veal Sweetbread Blue Corn Taco with Burnt Eggplant. Yum.
Design comes by way of Hui Designs (whose work we've admired in several other Singapore venues), with interiors exuding a seventies vintage charm combined with a contemporary feel. Upon entry, custom-made banquette seats run along the wall, drawing guests' eyes to an open kitchen counter that's grounded by a bulkhead clad in a psychedelic iridescent metal panel. An almost chapel-like colour-blocked acrylic skylight above allows natural light to penetrate the space.
Psychedelic patterns and textures such as exposed rough-textured bricks, cement screed walls, teak wood and terrazzo flooring accentuate that seventies vibe, whilst the warm and welcoming hospitality adds a more intimate feel.
From individual glasses to bottles and small plates, FOOL showcases stories and passion behind every bottle, with its retro looks and considered approach to unpretentious good times, this Singapore wine bar looks set to be a firm favourite for discerning epicureans in this cultured island city-state.