Shuko Oda and John Devitt open their latest Koya outpost, choosing Broadway Market Mews for their intimate, no reservations udon bar. Following on from the success of Koya Soho and Koya City, the duo have headed out east. Taking their famed menu of udon, donburi and snacks with them.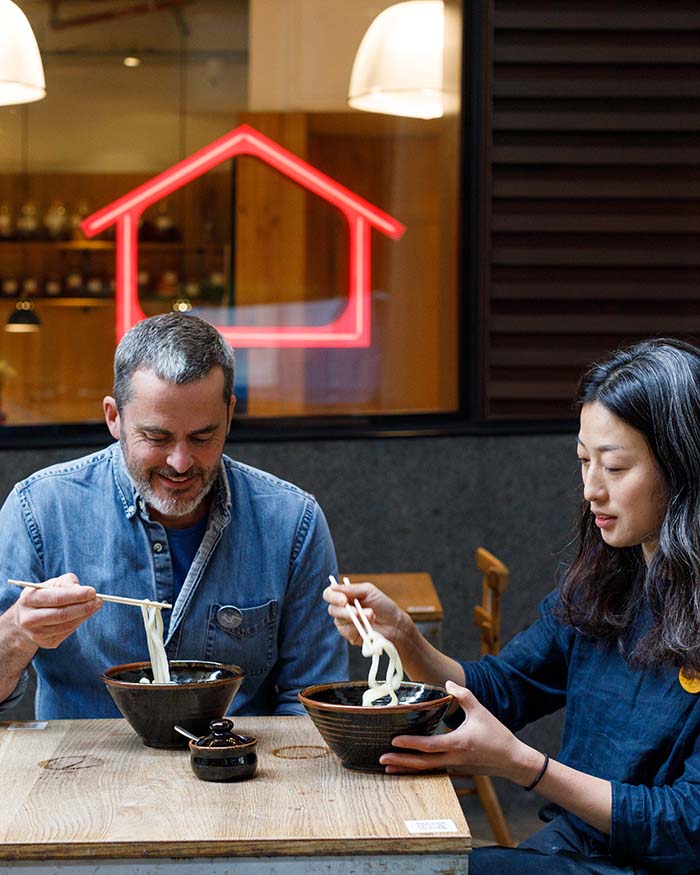 Koya Ko is inspired by the fast-paced dining of the train station noodle bars found in Japan. A more casual affair than previous restaurants, dishes are designed with takeaway in mind. A tachi-gui standing counter allows for up to eight diners to slurp udon on the go. Whilst an additional 40 indoor and outdoor seated covers allow for more leisurely dining.
A counter menu highlights the freshly made udon and dashi on offer, whilst a new ordering system ensures a fast-paced dining experience. Koya Ko is the perfect choice for a quick lunch, with on-demand udon available at any time.
Open all day, the breakfast menu consists of classics such as the Japanese Breakfast with grilled fish, rice, cup-soup and pickles, and Kama-Tama udon; and the Koya-revamped English breakfast. Come lunch, the menu is split into udon, mini-don rice bowls and snacks; combining dishes that echo Koya's signature dishes but with a Ko twist.
Whilst the bright blue noren leads diners to this exciting new restaurant, Koya Ko Broadway Market's top team of chefs and scrumptious dishes will keep them there. On the back of multiple successes, Oda and Devitt's move out east is a sure-fire winner.