Koya, who broke many a heart with the closure of its Soho restaurant (leaving Londoners with only the Koya Bar to get their traditionally-prepared udon noodle fix), has finally opened a second site; in the spangly new Bloomberg Arcade development.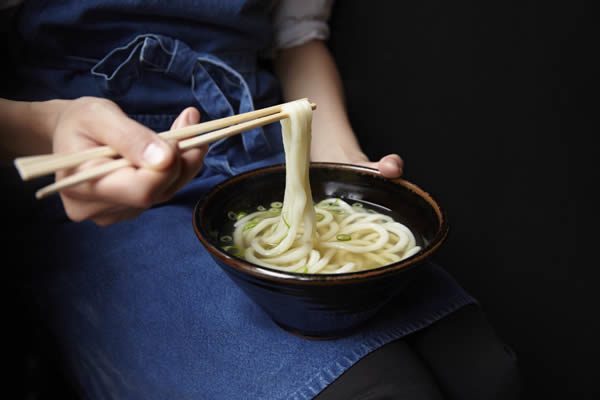 Renowned for authentic and affordable Japanese dishes, Koya City embodies the spirit of the Soho sibling; celebrating simplicity, technique, and tradition. Produce is sourced predominantly from the British Isles, chef Shuko Oda continuing to work with independent farmers, fisherman, butchers, and producers — including Nama Yasai, who grows the Japanese vegetables that form the basis of many a dish.
A contemporary Japanese breakfast awaits the early birds, Koya City open from 7am weekdays (later on weekends), where their signature English Breakfast Udon with egg, bacon and shitaki will be offered alongside newcomers such as Neko-Manma — poached egg and bonito rice with miso soup — and kippers with poached egg, butter rice and miso soup. A simplified lunch menu will suit the fast pace of City life, whilst dinner includes Koya favourites like Kinoko Hot Udon with mushrooms and walnut miso. As expected, udon and dashi are hand-made daily.
Designed to emulate an authentic Japanese bar, stools line the counter — where chefs and servers prepare the goods — and during opening hours, Japanese curtains will be whipped open to reveal beautiful restored blue quarry tiles lining the floor; and that colour palette reminiscent of their renowned Soho location.