A creative capsule for likeminded individuals, inspiring souls and disruptive projects to come together and flourish, Valencia coworking space, Cabinette, encourages innovation in a space filled with energy, good vibes and some dashing design from a team familiar to regular readers of this page.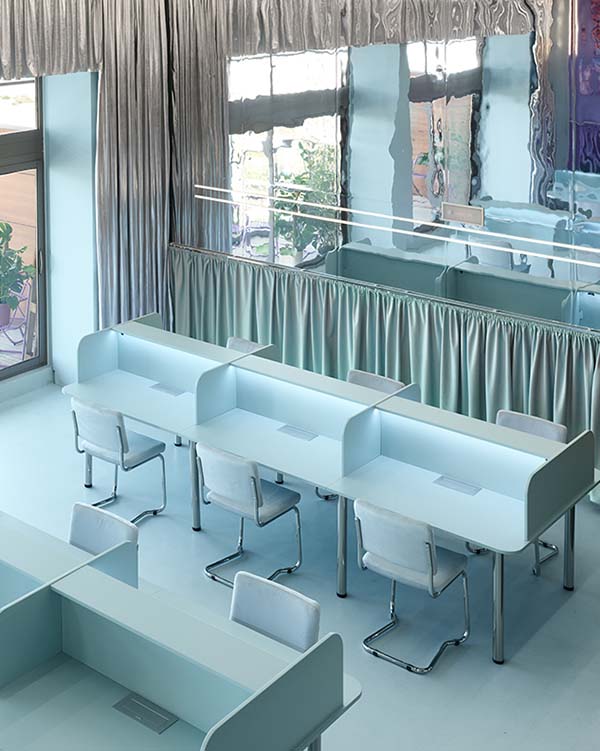 With We Heart favourites, Masquespacio, in charge of the design, the team have applied a 'sexy, luxe and fun' concept to this inspired coworking project in Valencia's La Fuensanta neighbourhood.
Sexy here means a stimulating space that nods to the 1960s, with velvet custom-made furniture, phone-booths and vintage curtains. The philosophy is undoubtedly clear: members must leave stereotypes and cliches at the front door. Hence Cabinette Valencia is a place for those who wish to run away from conventional spaces. A coworking platform for those who want to surround themselves with charisma and other culture and design lovers.
From daily rates to weekly and monthly memberships, there's something for every budget and whim here. With services including three meeting rooms, a community swimming pool, outdoor terrace and dressing room with shower, Cabinette blur the lines between work and play. Creative ideas can strike at any time of day, in any kind of setting. Masquespacio's fun-loving approach means Cabinette's members can strike the perfect balance and make the very most of their creative minds.
A design-led space that fully adheres to ongoing COVID protocols whilst providing a platform for creative coming togethers and laidback encounters, Cabinette Valencia is a coworking space that can make 'real work' seem like a myth. Inspired. Innovative. Masquespacio come up trumps again.
@cabinette_coworking
@masquespacio_ana
@masquespacio_chris