With Londoners once again able to move around the city, albeit with limited options, We Heart favourite, Morag Myerscough, has created See Through, a site-specific bamboo installation (the artist's first ever constructed with this material) located in Grosvenor Square as part of Wander Art, London's largest outdoor art trail, curated by Alter-Projects to help scratch the itch of cultural folk still unable to visit the capital's art galleries.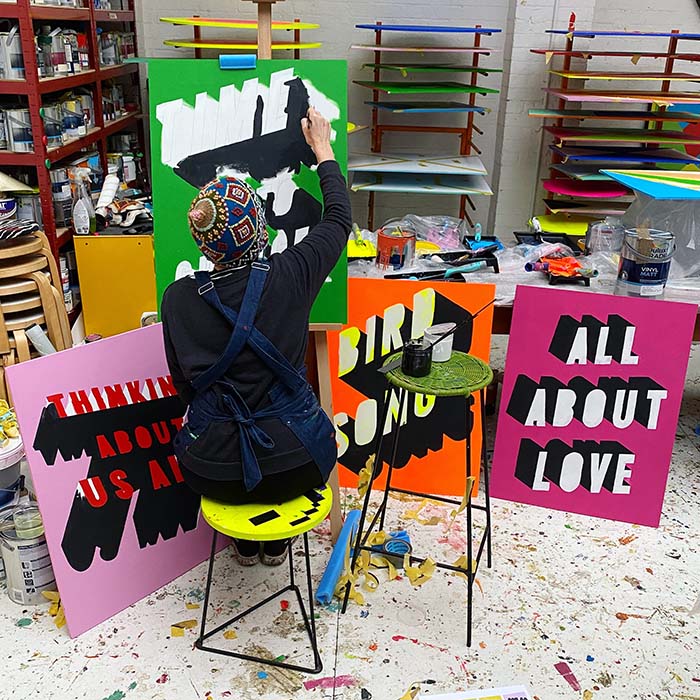 Emblazoned with the London-based visual artist's much-loved geometric patterns, striking colour palette and neon messages of hope, joy and unity, See Through is an installation that immerses its passers-by; inviting the neighbourhood's public to walk through and engage with its positivity during what remain deeply challenging times for all of us.
Choosing bamboo for its strength, flexibility and sustainable, fast-growing properties, the British artist considers the materials used for her temporary structures; ensuring wherever possible that these are reused or recycled. This latest installation serves as a reminder to remain grateful for what we have, and to recognise the simple pleasures in life; words and phrases such as 'hopeful', 'smiling at you', and 'time for change' making up the notions of positive thinking displayed in this inspired piece of public art.
In the words of Morag herself: "Our worlds have closed in, and we have time to reflect and be engaged in our lives in very different ways. We have had time to appreciate the here and now, connect back to nature, and take a slower place … Outside spaces are safer places to be and so we need to occupy them and bring unexpected joy back to the everyday. The structure is a response to these new times. A bamboo structure growing out of the grass bringing instant colour and joy."
Alongside the work of Ricardo Cavolo, Emily Forgot, Craig & Karl and more, Myerscough's uplifting installation for Wander Art will remain on show until June this year.
@moragmyerscough
@moragmyerscough