Craig Redman and Karl Maier, the New York- and London-based creative giants who collaborate under their Craig & Karl moniker, know a thing or two about unabashed technicolour splendour; the duo's ocular assaults rioting from the pages of fashion magazines to the walls (and floors) of major international galleries.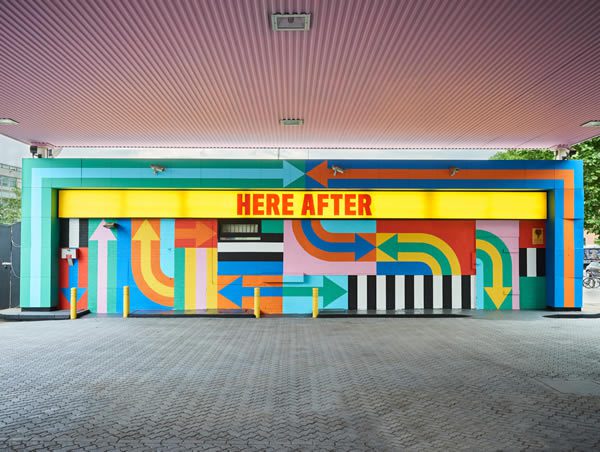 Joe Public are the serendipitous recipients of their latest work, a disused petrol station on Wood Lane in London's White City transformed into a vibrant piece of public art. Redman and Maier's intervention is the first stage of a regenerative scheme for the station — soon set to have a new lease of life as a venue for pop-up events; White City at-large undergoing an £8 billion decade-long metamorphosis that promises the formation of a new creative neighbourhood.
'We view this project as the petrol station's second life, or 'wonder years', which led us to use the words Here After as a reference to heaven or utopia,' explain Craig & Karl in unison. 'Now that the petrol station has fulfilled its duty, so to speak, it's free to enjoy itself.' A colourful nod to the famed test card design synonymous with this area — the station is situated between former Beeb HQ, Television Centre, and the erstwhile home of BBC Media Village, White City Place — Here After is a bold symbol of rebirth, and a signal to interesting changes afoot in this creatively-minded corner of West London.
Craig & Karl's Here After was painted by agency Global Street Art.