Having been somewhat of a city meeting point since the 14th century, Volkshaus Basel has been used as a base for political, social and cultural activities since it was converted into a hotel in the early 19th century; real estate developers and gastronomy entrepreneurs, Leopold Weinberg and Adrian Hagenbach, transforming the storied house in 2011 with the vision of creating a place 'of encounters'.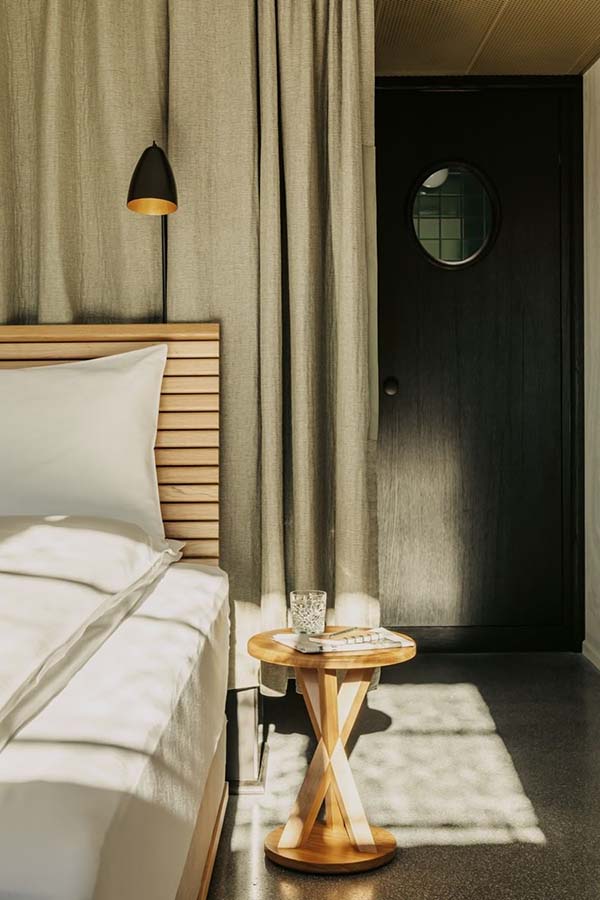 In collaboration with iconic architect-designers, Herzog & de Meuron (they behind such global masterpieces as the Tate Modern and Miami's Pérez Art Museum), the property is located in the heart of the urban and lively Kleinbasel district, and has been synonymous with hosting events—its bar and brasserie a popular meeting places for connoisseurs and those interested in art, culture and architecture—throughout the years since.
Now, the much-loved Volkshaus Basel is being extended by a new boutique hotel; the historic building transformed into a new temporary home, with Herzog & de Meuron once again exploring its historical substance with great sensitivity; refurbishing it in a modern way, with 45 rooms and suites reflecting the zeitgeist of pragmatic purity without losing any of their classical comfort and elegance.
Generous in size, rooms have a relaxed vibe with recurring shades of green, lounge chairs designed exclusively by Herzog & de Meuron and Merian Stitch wallpaper featuring references to the original, simpler staff rooms. A hotel for those interested in socialising, culinary delights, architecture, art and culture, the Volkshaus Basel experience begins as soon as guests enter the lobby; itself a work of art boasting an elaborately handcrafted marble mosaic floor and in the near future, an offsite concept of Von Bartha Gallery, which will present exclusively large-format works of art four to five times a year.
The Brasserie continues to impress locals and travellers with a menu that combines classic delicacies from all over the world, prepared with seasonal and regional products, whilst innovative vegetarian and vegan dishes are offered, some dishes with plant-based meat for those looking for something different.
Temporarily closed—until at least the end of January due to COVID-19 restrictions—but looking forward to meeting and greeting guests in the near future, Volkshaus Basel and its its historic halls, tree-covered inner courtyard and decadent design, will be waiting to continue making history for the Swiss city.
@volkshausbasel
@herzogdemeuron