Carved into caves and cliffs high above the mesmerising Aegean Sea, Vora Villas is a three-bedroom boutique hotel that celebrates both the architectural traditions of the island of Santorini and its crater-edge location; contemporary styling elevating the project above many surrounding properties.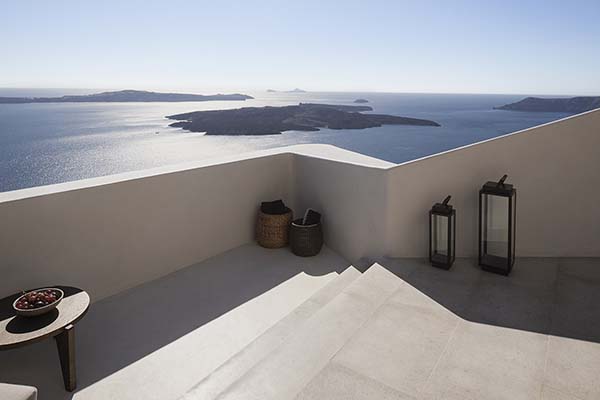 Famed around the world for its photogenic whitewashed, cubiform houses, its magical winding streets, and evocative blue dome churches, the Greek island of Santorini has always retained an air of subtle sophistication—the addition of Vora's three private villas allowing their guests to experience this rare refinement in an environ where luxury and local tradition coalesce.
Each design-led villa—created by Athens-based K-Studio—overlooks the island's volcano and appear to almost topple off the renowned caldera, offering spectacular sunset views best enjoyed from your private plunge pool. Cycladic design, a palette of muted tones and custom-made furniture sit alongside grey and black volcanic rock and burned finishes; a subtle air of impeccable Nordic design sensibilities wash through the interiors.
The single level cave villa and pair of two-storey villas (with black marble bathtubs) are all fully-contained, each housing a full kitchen and dining area verandas from which to enjoy the fruits of the island, whilst all the luxury amenities you might crave combine for a sort of heaven on Earth feel—meaning you won't have to leave your cliffside locale should you not be able to yourself away. A captivating getaway with design soul, Santorini's Vora Villas—with their monumental views and graceful aesthetics—are a unique addition to a singular island.