Occupying a tight 552 square feet of Mexico City's Condesa neighbourhood, a new gastronomic concept based on the humble egg has been drawing the locals to its coop-like, overwhelmingly yellow space; the versatile ingredient playing the role of the protagonist in original, fresh, and high quality dishes served morning, noon and night.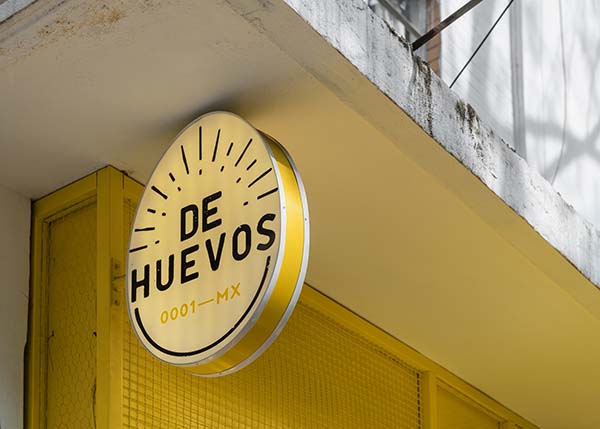 Produce is sourced from surrounding countryside farms, and sent directly to the eatery where the culinary possibilities of this staple food is explored to create dishes such as chilaquiles (a traditional Mexican dish consisting of corn tortillas) with egg; taco'n huevo de pico de gallo; hamburger served on brioche with, you've guessed it, egg; and a selection of salads, wraps and dippy eggs.
Multidisciplinary consulting studio Cadena + Asoc. Concept Design created the space, looking to the source of the star ingredient—as personified by the chicken coop aesthetic—and the street food stalls prevalent throughout the city for inspiration. Small and box-like, the bright yellow, open-fronted design certainly stands out among its neighbours; a long communal table and small terrace allowing for customers to hang out, chow down and disconnect for a while.
Meaning '(made out) of eggs' or, more colloquially in Mexico, to express something as being 'cool, awesome or incredible', we completely concur that this bold and brilliant premises is truly De Huevos.
@dehuevos_mx
@cadenaconceptdesign