Connected by four distinct buildings, Hotel Magdalena—the latest from Austin's Bunkhouse hospitality group, and their largest to date with 89 rooms—features exposed elevated walkways and courtyards that create a treehouse vibe, the space being created in collaboration with Lake|Flato Architects and inspired by the natural green space of central Texas, Barton Springs, Austin, and early 1970s lakeside culture.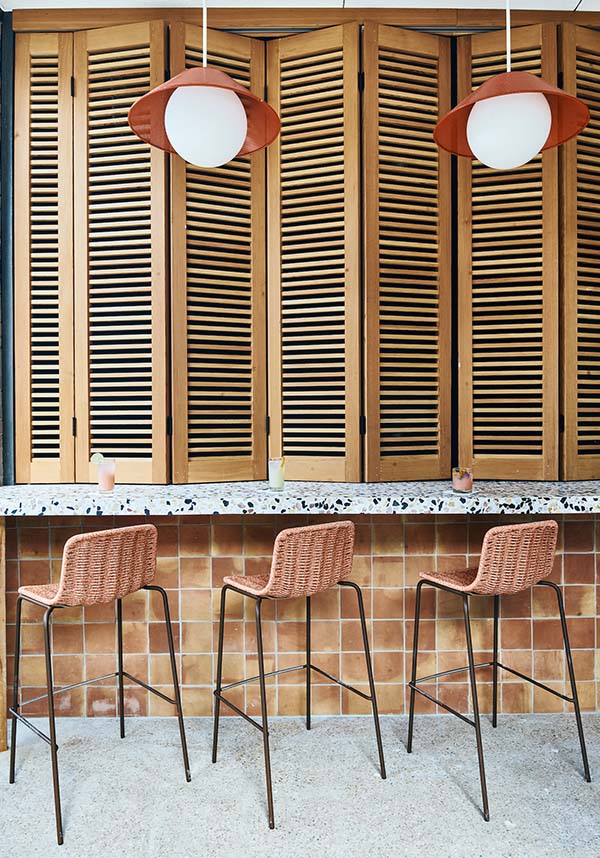 As a homage to Barton Springs Pool (a recreational outdoor swimming pool filled entirely with water from nearby natural springs), the property sits at varying elevations and is filled with lush landscape, selected by Ten Eyck Landscape Architects, which includes native Texas species such as Bigtooth Maples, Redbuds, Meyer Lemon Trees, Yaupon Holly, and Little Gem Magnolia. Merging Bunkhouse's familiar and widely celebrated retro cool with the wholesome feeling of the great outdoors, Magdalena is quite the looker.
Constructed of mass timber, a first for North America, the hotel has been assembled in pieces; the renewable resource visible in the in-room ceilings and exterior walkways. Guest rooms are light with large windows that allow the natural light at sunrise and sunset to flood inside; concrete floors, with exposed aggregate were inspired by the river rocks of Texas, are finished with custom Spanish tiles in one of four colourways. The red, blue, yellow, or green theme continues to inform the colour palette and complement design details such as Santa & Cole lamps and custom walnut wood built-in beds with Sferra bed linens.
Summer House on Music Lane, the hotel's (yet to open) restaurant, will be helmed by executive chef Jeffrey Hundelt, and feature a menu that focusses on grilled local meats and seasonal vegetables with bold accompaniments and bright salads. A guest-only bar surrounds a 900 square-foot pool with design elements that include a terracotta and terrazzo bar and stamped concrete tile walls; offering a hip sanctuary to soak up the city's sunny rays with a good cocktail in hand.
In keeping with Bunkhouse's ethos of creating community-driven experiences, Hotel Magdalena—situated on Music Lane, amid Austin's most vibrant culture and history—will feature a host of cultural programming that includes live music, nature walks, and local partnerships, bringing guests and locals together and allowing travellers to experience the authentic Austin.
@hotelmagdalena
@bunkhousehotels
@lakeflato