A busy month for Watch House, August saw the industry-leading coffee connoisseurs open a new roastery and tasting room on Maltby Street, Bermondsey; as well as launch their 'House at Home' subscription service, allowing you to enjoy the finest third wave coffee straight to your door with a plan to suit your caffeine needs.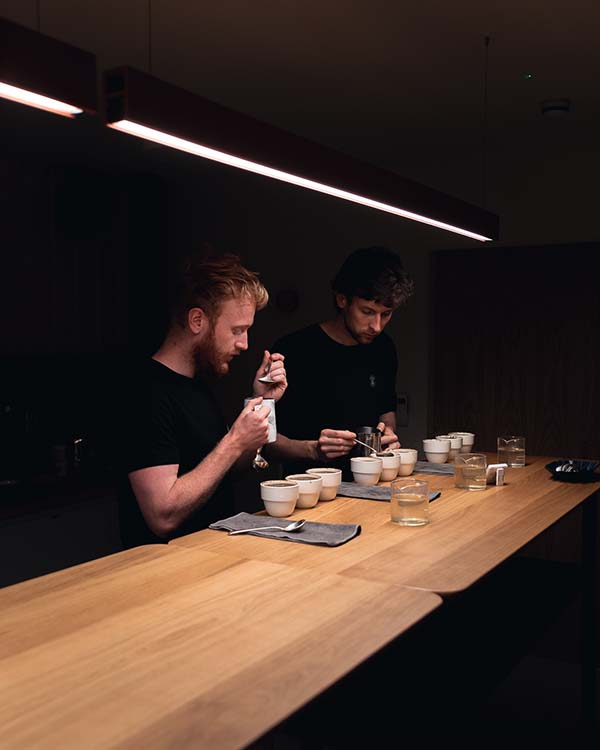 Situated under the railway arches—a creative hub for the neighbourhood, and home to Maltby Street Market—the new roastery and espresso bar is the sixth opening from the renowned specialists, and has been designed by award-winning London-based studio Kirkwood McCarthy, featuring a striking U-shaped bar made with terracotta bricks, and floor-to-ceiling windows that offer a glimpse of the roaster and training room; customers enjoying a behind-the-scenes experience of what Watch House dub the 'Modern Coffee experience'.
Oak, timber and glass is used throughout, giving texture to the historic arched building, whilst towards the end of the space, a darkened room is separated from the main area; the cupping room a training ground for Watch House baristas and a spot for customer tasting sessions, fully immersive experiences designed to enhance the taste and smell of the freshly ground coffee.
Sourcing beans from independent suppliers the world over, before being freshly roasted at the Maltby Street premises, Watch House have created three categories whereby the coffee will be changed seasonally, and can be delivered to your door as well as sold in Watch Houses all over London. From Rituals, to Ventures and Rarities, the categories have been curated to suit all moods, whims and desires.
For coffees designed for everyday drinking, and those that defy expectations, raw and textured surroundings and a sophisticated slice of stype, Watch House Roastery is a welcome addition to the Bermondsey food and drink scene, and one set to attract coffee lovers from neighbourhoods afar.