A place to seek knowledge and wellness, experiences and novelty, curiosity and connection, coworking space KWENCH seeks to foster happy and healthy lives among their members; the female-founded, funded and operated multi-functional culture culture club in the Old Town district of Victoria, BC, offering private offices; shared workspaces; fitness and wellness facilities. Classes; workshops; private and public events; lectures; art installations; meditation; a library; bar; and food and drink, all combining under one exceedingly busy roof.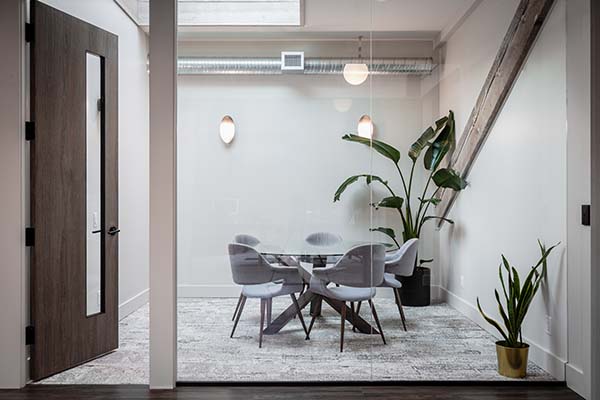 And what of said roof? The impressive 25,000 square foot creative coworking environment occupies a once derelict attic that sat atop one of the British Columbia capital's forgotten heritage buildings; those two roofs having now been merged together underneath a stunning glass atrium that serves as the innovative club's reception and beating heart.
Hansenbuilt Design, and specifically interior designer Sarah Donald, converted the former dark attic into a vibrant and light-filled venue that celebrates networking, entrepreneurial spirit, creativity and more; the design team having opting for a calming, natural palette of wood, tile and fabrics to encourage ideas that can be brought to fruition and improve the quality of life for members.
Home to a diverse list of long-term tenants, KWENCH is the largest work club on Vancouver Island and—whether these tenants find themselves working from the huge circular sofa under the atrium roof, among its myriad plants and green space, or in the striking kitchen—the brand's ethos of 'working with local designers and artists', ensure's they're occupying a space that reflects the style of the local creative community and environment; keeping the KWENCH circle fully rotating.