Situated over two floors in the very heart of London's Soho, Kolamba serves up unpretentious, fresh Sri Lankan fare that is already winning rave reviews. Its interiors come courtesy of local designers, Studio Fils, and offer a nod to the Tropical Modernism movement—think bespoke terrazzo table tops, lashings of greenery, concrete flooring, exposed brickwork, tan banquettes—with commissioned artworks by contemporary artist Sonali Dharmawardena accentuating the space's sun-soaked island hues.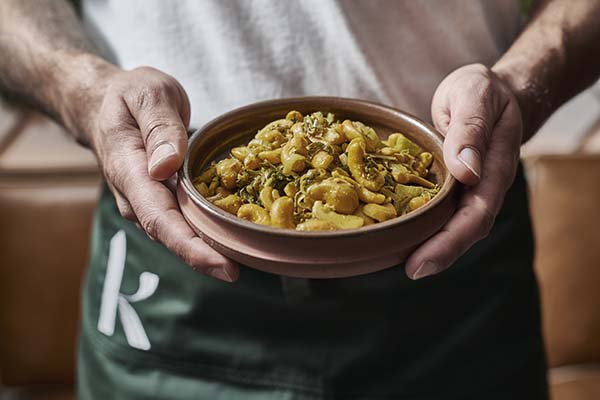 Home-cooking at its very best, diners should brace themselves for an explosion of flavours, spices and colours; each dish tried and tested over the years by owners Aushi and Eroshan Meewella, who are bringing to life the culinary memories of recipes they grew up eating in the houses of family and friends in Colombo (or Kolamba to those who know better) and delivering them to the city's food scene.
The menu celebrates the sweet, spicy and sometimes simple family dishes that natives of the tropical island devour on the daily, and include Polos Pattis, succulent pieces of spiced, savoury jackfruit wrapped in soft buttery pastry and golden fried; Kamala's Kalu Pol Pork, a traditional slow-cooked toasted coconut belly pork with lemongrass and curry leaves; Ala Thel Dala, fiery spiced potatoes with onions and dry chilli flakes; a selection of Sambols (small salads); rice, and breads and condiments such as Malay Pickle and Date and Lime Chutney for those who like to add a little more pizazz to their plate.
For fresh, flavoursome, no-frills cooking that pops with insatiable flavour—all served up in surrounds that evoke the spirit of Aushi and Eroshan Meewella's beloved tropical island—this humble new restaurant slap bang in the centre of London is one to watch.