A former private residence has been converted into a boutique hotel, the listed neoclassical building in Athens's Kolonaki quarter renovated by design studio, Babatchas, to provide guests with a 'home-from-home'; its mix of rooms and suites spacious and luxurious, with interiors a blend of modern architecture and contemporary aesthetics.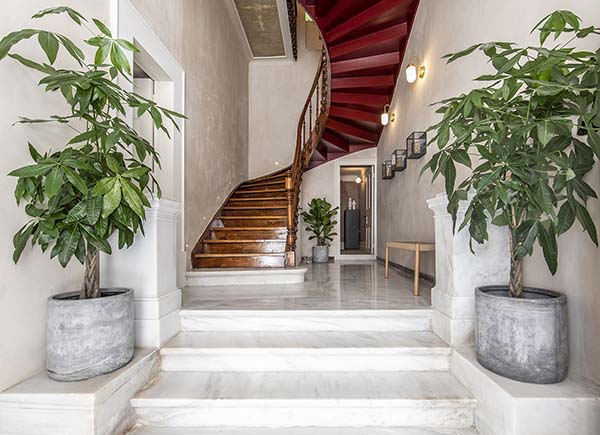 Influenced by the culture of the neighbourhood that the hotel finds itself in, guests of Monsieur Didot are encouraged to learn, explore and grow curious,;with attention to detail and an emphasis on authenticity core to the design hotel's values. Here, travellers will find a genuine living experience and the warmest of hospitality; spaces designed to "host everyday stories unique to your being."
A neutral palette and natural materials set the scene here, some of Monsieur Didot's suites and rooms home to carved marble fireplaces; imposing bookcases; marble balconies and private verandas that boast impressive city views. Intricately drawn ceilings and walls have been revealed and restored in the hotel's main entrance, as well as in several guest rooms, whilst secret doors have been introduced to create a touch of mysticism.
Traverse the residence and you'll find more bookcases; artwork; handmade ceramics; portraits of influential folk; lush greenery; and that show-stopping staircase, once again solidifying the fact that this is a place to come and be at one with yourself and your surroundings. Anything but an ordinary hotel, Monsieur Didot is your doorway to an authentic Athens experience.
@monsieur_didot
@babatchasdesignstudio