A neighbourhood spot to enjoy authentic Italian pizza made from local and homemade ingredients, Montreal's Vesta, is appetising, welcoming and generous. Accompanying a pizza menu that includes everything from the classic Margherita, to pepperoni—to more obscured varieties such as 'Bob Special' and 'Filomena'—diners here can tuck into a selection of salads, sides and pastas; the restaurant's thoughtful natural wine offering perfect to wash it all down with.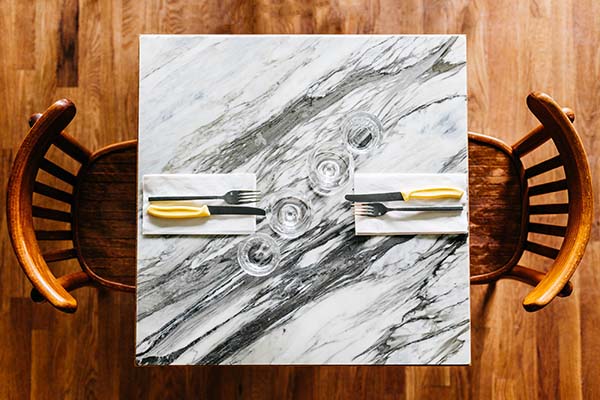 A place to make yourself at home, designers Ménard Dworkind architecture & design looked at the Italian family restaurants found throughout North America during the 1970s; creating a contemporary space that's full of nostalgic and wholesome Italo-Americana. At Vesta, white oak, painted pine panelling, and red leather add a warmth; whilst a variety of lighting arrangements add a touch of intimacy. A huge pizza oven imported from New York takes centre stage in the open kitchen, diners able to see dough tossing from their seats and watch the arrangement of toppings being compiled at the plush prep counter made from white Carrara marble.
Tables are made from 24×24 marble tiles found in liquidation, with a white oak boarder; whilst all the dining chairs are vintage. Fusing contemporary design and Italian-American family vibes expertly, Ménard Dworkind's considered approach makes for an enticing destination restaurant for Montréalais.
Whether you're popping in to pick up your takeaway pizza or dining onsite, Vesta—located in the city's Villeray neighbourhood—is another winner from the local design studio.