Renowned for creating spaces for cultural expression and enjoying collaborations with a diverse community of partners, New York-based architecture and design studio B-KD (Büro Koray Duman) are responsible for the eye-catching and functional layout at Village Den, a health-conscious café in the the city's famous West Village that prides itself on serving familiar food done the right way.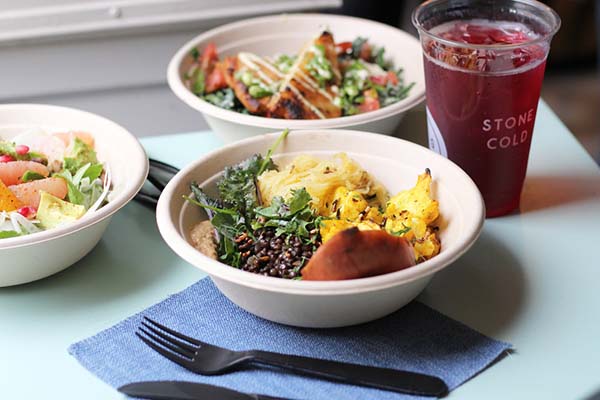 Having sacked off gluten, soy, red meat, processed sugars, seed oils and fryers, at Village Den café, fresh and flavoursome ingredients are favoured; colourful vegetables and other produce used to create dishes such as the Sicilian c-bomb salad with citrus, avocado, shaved fennel, pomegranate, toasted pistachio and lime chilli spice. For just a few dollars more, it can include pulled chicken, baked lentil sticks, roasted salmon, and plenty more, all served up alongside a menu of breakfast plates, smoothies, and a host of wellness add-ons such as CBD oil, bee pollen, turmeric, collagen and keto powder.
The design is as equally fresh, with an abundance of natural light flooding through the floor-to-ceiling windows, and plenty of lush greenery hanging from a 3D lattice structure which is attached to the ceiling; something B-KD chose in order to envelope the entrance area and create both a visual and tactical impact. Materials reflect the brand's health conscious and casual approach, the wooden lattice sculptured to form the frame of a blue-board that is filled with 'Things that Matter', such as recycling; being nice to people; eating your veggies; and keeping phones off the table. Fine mantras, indeed.
A point of sale, display of goods, lighting elements, plants, merchandising, condiment table and storage complete B-KD's modern, organic and functional layout at the Village Den; a brilliant mural from the inimitable Jeremyville adds to the eatery's extreme Instagrammability.
@THEVILLAGEDEN
@burokorayduman