Following completion of Munwood Lakeside—Dali's first design hotel—IDO in collaboration with Chongqing Hexin Architectural Design Institute have opened the doors on Munwood Panoroma, the second Munwood property for the ancient Chinese city.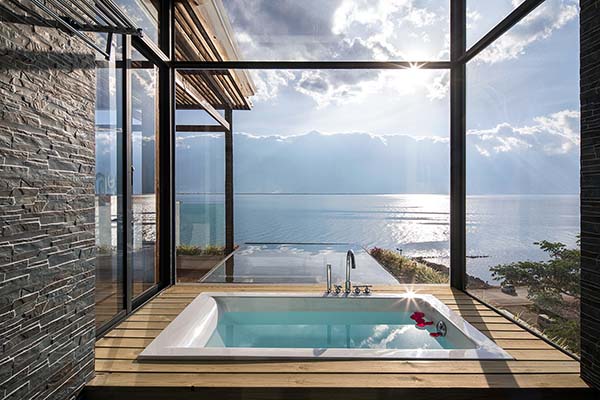 Taking the sunset as inspiration (a contrast to Munwood Lakeside, which is designed around the sunrise), Dali Munwood Panorama Resort Hotel directly faces Cang Mountain, Dali Ancient City and the Three Pagodas of the Chongsheng Temple; with sweeping views of Erhai Lake and some spectacular golden hour and sunset vistas.
Situated on a sloping site on the east bank of Erhai Lake, the hotel occupies two local dwellings, the designers building on the 'low-cost' principal, meaning as little disruption as possible to the village, its environment and people. With 23 guest rooms over 11 categories, the focus at Munwood Panorama is on connecting guests to the humbling nature that surrounds it; some—such as number 601—boasting a bathroom that houses an indoor garden designed to create the illusion of being outdoors for a unique bathing experience.
Public spaces here form a circular route over a variety of elevations, including a rooftop terrace with a social area and infinity pool with enviable views over the lake and towards the mountains, which—depending on the light and winds—change throughout the season offering guests different experiences at different times of the day or year. Taking the limited area and irregular shape of the site into consideration, Init Design Office (IDO) and Chongqing Hexin Architectural Design Institute Co., Ltd. used diagonal walls in the guests rooms top maximise the views toward Erhai Lake; an imposing natural wonder to wake up to.
Creating a unique spatial ambience throughout, the architecture and interiors at Munwood Panorama carefully consider the design hotel's most important selling point at all times. Nature here is inescapable, and the designers have done their best to ensure that remains so.