Dariel Studio have completed a considered renovation of Nanxun Blossom Hill Boutique Hotel — an alluring heritage property occupying a series of former homes in Huzhou; a city in the northern Zhejiang province of China.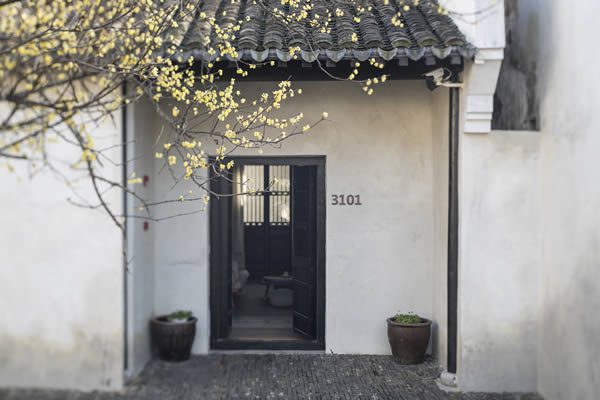 Inspired by former owner Liu Chenggan's book collection — this area of Huzhou is also known as 'Hidden Book Town' — as well as the house's surrounding neighbourhood and Southern China style gardens, the studio followed the 'Hidden' theme for its design concept; the story of Nanxun and Qiushuli village relived through prepossessing aesthetic.
The space, a mix of Chinese beauty and western styles, captivates its guests — a long paved path reminiscent of Shanghai's streets and alleys leading to a secluded haven engraved in four Chinese characters: 鹧溪小隐. The first two characters originate from the name of little streams that pass through one of the buildings, whilst the latter states a Chinese philosophy: 'the first-class seclusion is hiding in the market, while the second level seclusion is hiding in the forest'. Let's presume some of that got lost in translation.
A nod to the textile industry that made Chenggan's family the wealthiest in Nanxun, Dariel Studio have combined elements of silk with the hidden concept — woven screens creating areas of seclusion in the communal spaces. Just one and half hours from the chaos of Shanghai, this 20-room beauty harnesses the cultural spirit of its heritage roots and fuses it with exquisite simplicity; Thomas Dariel known for his ability to coalesce traditional Chinese culture with contemporary Western modernity. A mindful retreat, Nanxun Blossom Hill is a portal to another world.