Located amid the enigmatic hutongs (the narrow alleyways associated with northern Chinese cities) of the hulking capital's Beijing Fang district hides the second hotel from Japanese retail design giants, Muji.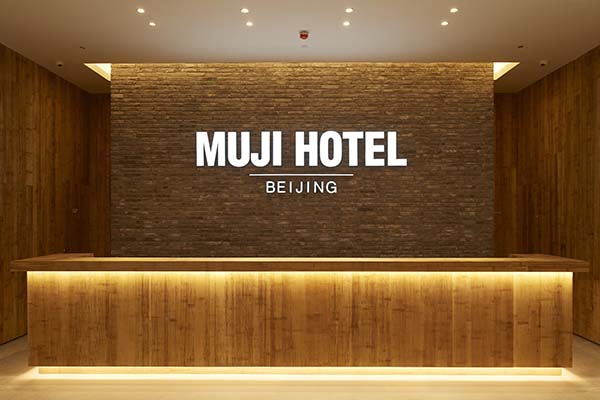 Muji Hotel Beijing, as is the case with their recently-opened Shenzhen property, is a space where guests can enjoy their stay as though it were an an extension of their own lifestyle—a soothing space to be savoured whilst travelling. Complete with Muji products and services, the goal is to offer a good night's sleep at the right price, enabling visitors to replenish the body and soul whilst connecting with locals.
With 42 rooms ranging from 18m² to suites of 75m², natural materials and a the sort of neutral palette you'll be familiar with are a nod to the brand's 'anti-gorgeous, anti-cheap concept"; lighting carefully selected to encourage a healthy sleeping pattern, and top quality amenities making this hotel a fine option for everybody from the business traveller to long-stay guests, or those merely passing through.
The impressive book lounge within the first-floor reception area features approximately 8,000 travel and lifestyle publications, a communal table designed to encourage guests to interact in the space whilst discussing the reading materials and, of course, choosing which they may like to purchase. Meanwhile, Muji Diner boasts a rooftop terrace overlooking Tiananmen Square; serving freshly-prepared East Asian influenced fare. Open all day, commencing service with a healthy breakfast menu, come nightfall guests can enjoy a pre- or post-dinner cocktail with spectacular views over the city.
With slick design from UDS Ltd.—a design firm committed to creating sustainable and lively urban spaces—complementing the Japanese brand's inimitable style, Muji's continue march into the hotel world is a welcome one.