Plant-based restaurant, The Butcher's Daughter, have expanded their presence in Williamsburg with the recent opening of a bakery and market set over 1,200 square feet; located next door to the dapper chain's existing venue on the corner of Metropolitan and Driggs Avenue.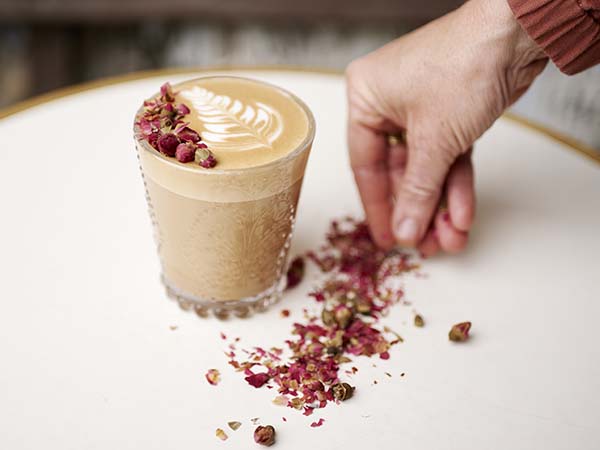 Based on both the East and West coasts of the USA, The Butcher's Daughter (TBD) is known for its 100% vegetarian and mostly vegan & gluten-free daily-changing menu, and for approaching fruits and vegetables as a butcher would meat: chopping, filleting and carving fresh produce into healthy dishes and pressing them into Instagrammable juices. All done in spaces with interior aesthetics that make the jaw drop as much as the produce does.
Created as an extension of the existing Brooklyn location, the new space offers WiFi, a first for The Butcher's Daughter—founder and creative director, Heather Tierney, telling us: "we wanted to create a neighbourhood hang, that would not only offer amazing products, food, and coffee but also serve as a working and hangout spot without having to commit a formal meal."
With interiors designed by Tierney's Venice-based creative agency, Wanderlust, the space embraces the boho vibe synonymous with the brand, guests greeted by a butcher-block coffee counter, a 17-foot-long communal table and views into the baking kitchen, where executive pastry chef Perry Ledesma can be seen rolling and kneading his fleet of artisanal breads made famous at the Los Angeles location; think extra sour sourdough, gluten-free ciabatta, and maple nine-grain​ (which also serve as a platform for the infamous avocado toast) alongside a selection of vegan and gluten-free pastries.
Offering select items from the restaurant menu and stocking house label products, the Market is a delightful space where the curious can stay to enjoy the likes of coconut yogurt parfait and spicy kale caesar before perusing signature bottles of wines including Slutty Red, Sassy White, Sexy Rose and ​Saucy Bubbles; a vegan candle line; all-natural bath products; and a selection of exotic salts, spices, and organic olive oils that allow visitors to take a little slice of The Butcher's Daughter magic home with them.