Whether you're looking for a private office, dedicated desk, hot desks or studio space, Brisbane coworking space Colab 4010 has you covered. In serious style. With affordable rates and flexible lease terms, members can rent a desk from month to month without having to commit over the longterm, especially beneficial for creatives starting out in their chosen field.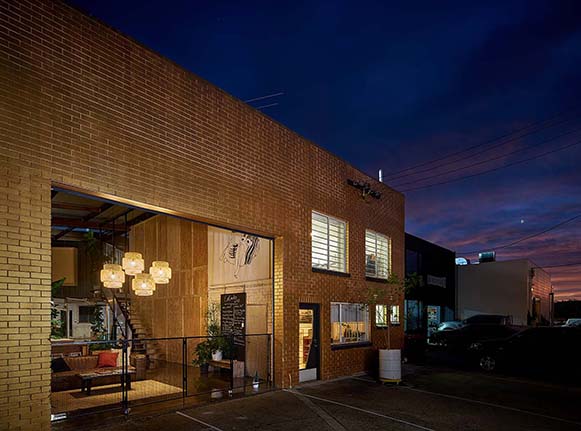 Located in a lively area in Albion—just 5km from Brisbane's CBD—Colab 4010 counts cafés, bars, breweries, and yoga studios among its neighbours; a creative hotspot for the diverse clutch of creatives who choose this inspired space to work from each day. From barbers, tailors and florists to visual artists, filmmakers and interior designers, passion and new ideas are encouraged here, with support and collaborations offered each step of the way.
That sort of community—bouncing ideas off one another—is key here at Colab 4010, and as such there are regular events where 'tenants' can network without pressure; the large multipurpose area, meanwhile, sees performances, exhibitions and workshops taking place, the space available for artists and creatives to rent from as little as $100 per four hours.
The converted warehouse retains an industrial aesthetic with exposed piping, raw materials and tiled flooring, whilst large leather sofas and plenty of lush greenery add a warmer, more homely vibe; art and an abundance of design touches complete what is the perfect breeding ground to nurture ideas that can be turned into the next big thing.