Described as 'Australia's first urban resort', The Calile arrives informed by the climate and tropical surrounds of Queensland, creating an altogether unique offering for the lively Brisbane neighbourhood of Fortitude Valley.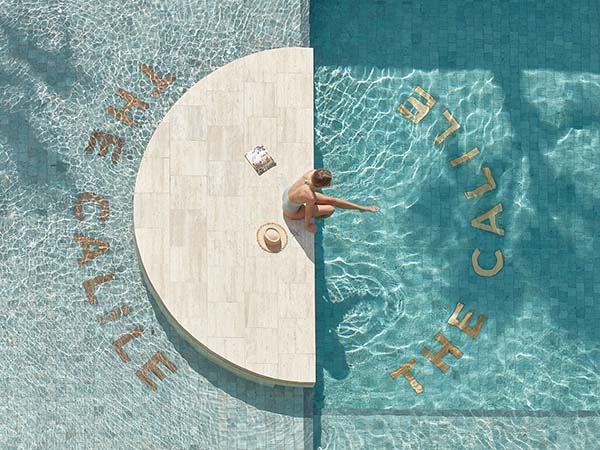 With 175 rooms that feature an irresistible candy pastel colour palette, crafted oak furnishings, lush marble surfaces, brushed brass accents and a mix of Juliette, pool-side, and terrace-style balconies, The Calile has been declared as the "greatest professional achievement to date," by Brisbane-based architecture practice Richards and Spence, who looked to other hot weather cities—Miami, Palm Springs, Rio De Janeiro and Mexico City—to inform their design.
And who can blame the designers for being as pleased as Punch? The Calile is a riot of style that will be landing their names in glossy design mags around the world; its many beautiful twists and turns sure to backdrop a million Instagrams. Indeed, those seduced by the place won't be solely travellers—The Calile a destination for locals as well as hotel guests.
Offering a host of dining options from modern Greek restaurant Hellenika—that opens onto a leafy terrace for alfresco dining and pool-side cabanas—to the sophisticated Lobby Bar and access to a new laneway dining precinct adjoining the property, Brisbane's climate, which allows for largely outdoor living, has been taken into consideration, the hotel naturally ventilated to bring the tropics indoors to this James Street locale.
Wellness facilities are set to wow as much as all else, KAILO Wellness Medispa and Forme Fitness located on the pool deck level and providing relaxation and fitness in some stunning surrounds. And about that pool: it's a destination in its own right, a place to swim a couple of laps, a place to be seen, a place to soak up the city's incredible climate and to bask in the views of this devilishly brilliant design hotel.
@thecalilehotel
@richardsandspence