Muralist, painter, and all-round street art legend, Kenny Scharf's first UK exhibition in a decade continues at London's Opera Gallery until 10 July; new and never-before-seen works in his signature style comprising the riotous show, entitled Blobz.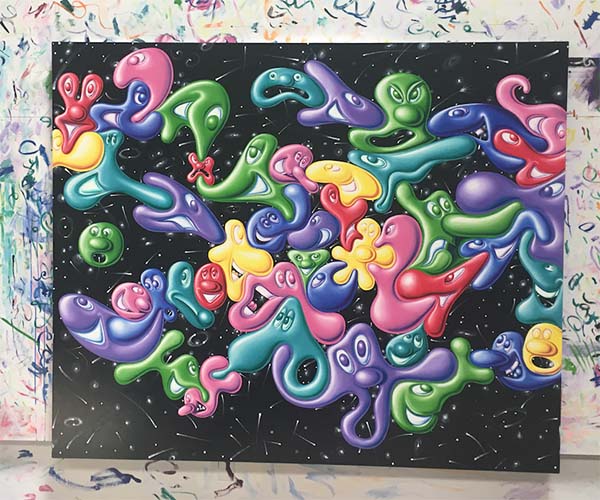 Known for his participation in the interdisciplinary East Village art scene of the 1980s, his friendship with Jean-Michel Basquiat and Keith Haring, and more recently for pioneering Cosmic Cavern—a now legendary all-night DayGlo disco party held in the basement of a Brooklyn warehouse from 2009-2010—the New York-based street art stalwart often incorporates pop culture icons into his large-scale paintings; creating exuberant compositions with an underlying subversive edge. 
Referencing masks and symbology, Blobz reflects the darker issues of the modern world, as Scharf's energetic pop surrealism contorts itself through our uneasy sociopolitical landscape; his accessible approach as evident as ever. "One very important and guiding principal to my work," says the Californian native, "is to reach out beyond the elitist boundaries of fine art and connect to popular culture though my art."
Kenny Scharf, Blobz, continues at London's Opera Gallery until 10 July.