Design practice Studio Esteta were responsible for executing the Instagram-ready interior architecture on Fonda, Bondi, the first national outlet for the otherwise Melbourne-based Mexican restaurant chain.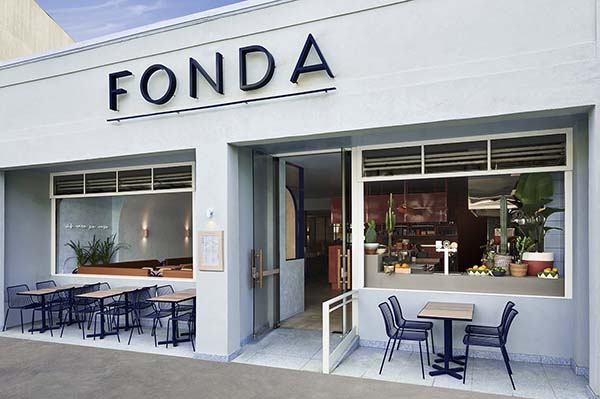 Nodding to traditional 'Fondas' of Mexico—homes with open doors and a 'mi casa, su casa' philosophy, that serve up delicious homemade food to the local community—Fonda Bondi delivers a warm and inviting setting to the neighbourhood of Sydney's world-famous beach; the colourful and convivial personality associated with the brand retained, albeit with a sense of sophistication and refinement.
The studio approached the design process by looking to the works of the iconic conceptual architect Luis Barragan, a key point of inspiration for his use of raw textures, bold colours and simple but striking forms—the latest Fonda Mexican combining the honest and humble textures of Mexico with the beachside suburb of Bondi.
Entering through a stark white façade emblazoned with the words FONDA and featuring a small terrace area, diners set foot into the restaurant with a layout that enables a fluid and seamless spatial flow; from the bustling and colourful bar area at the front to the intimate booth seating in the middle and rear dining area fitted with a fancy banquette and lush vegetation, diners are also treated to a smattering of rust-toned encaustic tiles, rattan screens and varying shades of terrazzo, and warm timbers which serve to add a softness to the space.
Gather your friends, order a selection of the brand's renowned dishes and cocktails, and let the good times roll; as Fonda Bondi brings the aesthetics and attitude of real Mexico to this iconic Sydney setting.