Having built up an enviable client list since inception in 2003, Peggy Porschen—along with husband Bryn Morrow and their talented team of pastry chefs and sugar-craft artists—create edible works of art for all from Royals and A-list celebs to the Joe Public.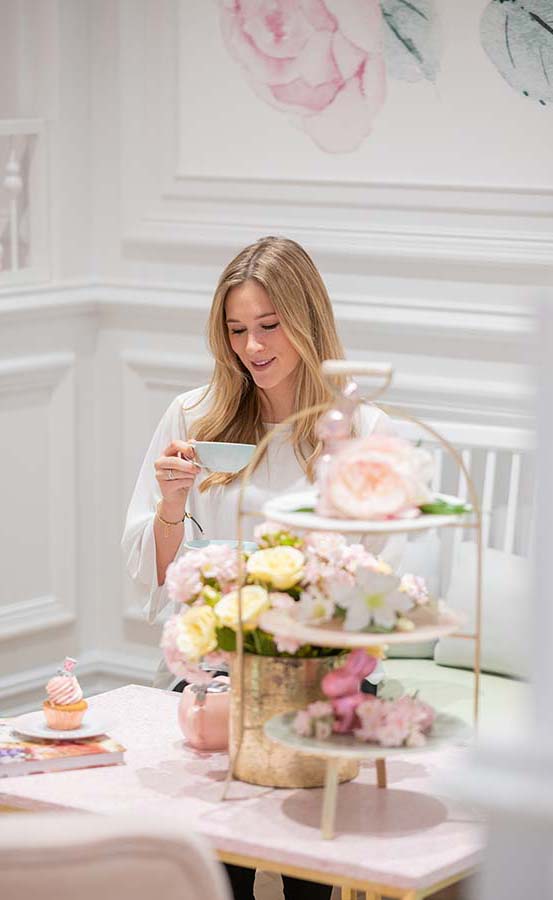 Initially a made-to-order business, the first 'parlour' opened its doors in 2010, Peggy's freshly-baked cupcakes, cookies and layer cakes on sale in London's swanky Belgravia. Today, some nine years on and the cake brand have opened their second outlet on the King's Road, the new locale—their flagship parlour—capable of accommodating a host of dining occasions, and features an events space and popping pink champagne bar.
Split over two floors, the 2,400 sq ft space has been designed by British design consultancy Kinnersley Kent Design and features familiar interiors, the brand identity remaining true to the original Peggy Porschen cake emporium; embodying its feminine and soft spirit throughout. Pastel greens, pinks and blue make for a sophisticated colour palette which serves as the ideal candy-coloured backdrop for the colourful and delectable goods on offer.
"The new parlour is an important milestone for us, and we are hugely excited to be growing our brand in this unique and historic location. The project was intricate and detailed, calling for close coordination and a shared vision across each team. We were impressed by Kinnersley Kent Design's collaborative approach, their creativity, eye for detail and dedication in helping us achieve our ambitions. We are thrilled with the outcome and are sure that our customers will love the new Parlour as much as we do."
Indeed, Kinnersley Kent's eye for exactness was key to their creative approach—attention to detail at the heart of both shop and designer, resulting in a playful and whimsical space that errs on the side of luxury without an intimidating fee. Combining contemporary design references with traditional details, the new Peggy Porschen flagship is a spot as aesthetically delightful as the crew's daily-baked collection.
@peggyporschenofficial
@kinnersleykentdesign