Rooted in the concept of 'Research and Development for Health', Chinese architectural practice Towodesign have completed an unforgettable aesthetic for bird's nest drink and dessert shop Dr. Bravura; the project featuring hexagons and curves as a nod to the arrangement of molecules.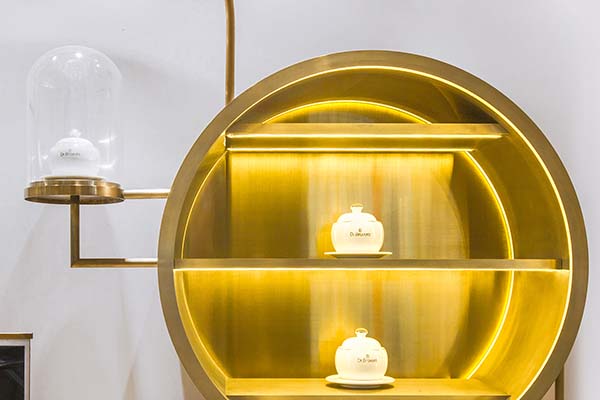 Built on nutrition science, Dr. Bravura serves bird's nest (actual bird's nests, by the way) drinks and desserts alongside light dishes that incorporate traditional ingredients. Due to the fact that birds eat primarily saltwater fish, one may be surprised to find that the taste of said ingredient is more akin to flavours traditionally associated with the sea.
The design team—consisting of Ren Wei, Liu Xiongjie, Zheng Liyuan, and led by He Mu—created a 'laboratory' that features the brand's colour palette of white, gold and light grey, with gold lines highlighting the store frontage; with geometric shapes found in the logo running throughout the flooring, walls and display stands. An open shelf displays edible bird's nest products, which—displayed like works of art—allow the customer to understand more about the delicacy and Dr. Bravura's concept of "pursuing a high quality life."
Minimalist, luxurious and with the requisite amount of Willy Wonka science feels, Towodesign have crafted a magical playground for this health-forward Shanghai store.