Hungry for fine music or finer food, those in search of the perfect night out will be wowed by a new east London venue. The kitchen of Dalston's music and arts venue EartH (Evolutionary Arts Hackney) brings together Auro Foxcroft, the force behind Shoreditch's renowned Village Underground, and Chris Gillard, former executive chef of St. John, in a project that fuses good times and great cuisine.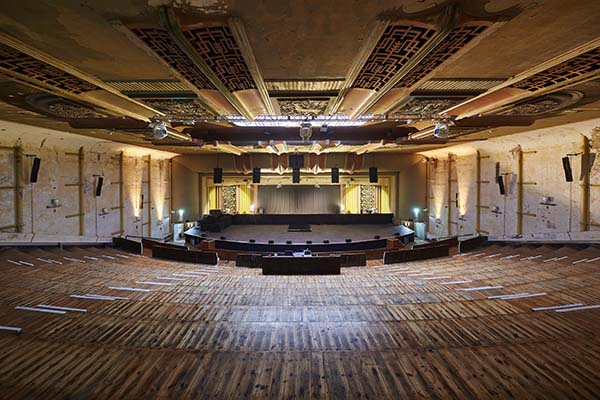 Offering a seasonal menu that comprises show-stopping yet simple plates such as crispy pig's cheek with watercress and shallots, roast pigeon with braised red cabbage and mash, jerk ox heart with aubergine and mint, and brown shrimp with kohlrabi and mint, EartH Kitchen reflects Gillard's resolute passion for the sort of famously ingredient-focussed dishes that were clearly drummed into him at St. John.
Designed by architecture and interior design studio Transit Studio, the 150-cover neighbourhood restaurant occupies the first floor of a former art deco cinema on Stoke Newington Road (its former foyer to be precise), an imposing building that is now home to this culture-forward place for city-dwellers to 'meet, listen, watch, dance and enjoy all artistic endeavour and creativity has to offer'.
"I've cooked everywhere from St. John to muddy festival fields," says Gillard, "and EartH Kitchen will draw on all of those elements: an emphasis on traditional hospitality, all food made in-house, and a willingness to experiment. We're looking forward to welcoming apprentices from Hackney City College; EartH Kitchen is a place for training, and for talent to be nurtured, with the promise of a role in the team at the end of it."
With an understandably strong emphasis on music, EartH Kitchen will be host to events (think bopping Thursday jazz nights to cool low-key Sunday DJ sets) which should confirm this buzzing Hackney hotspot as a go-to destination for years to come.
@EartHKitchenN16
@transitstudiouk