Located among the hustle and bustle of Linz's creative hood, in the former workers' quarters of the tobacco factory known locally as 'Tschickbude' (ciggy hut), etagerie—a brand that stands for authentic, temporary living—have opened the doors on 33 design-led apartments, renovated with a nod to the 1950s; the period the workers' quarters were first built.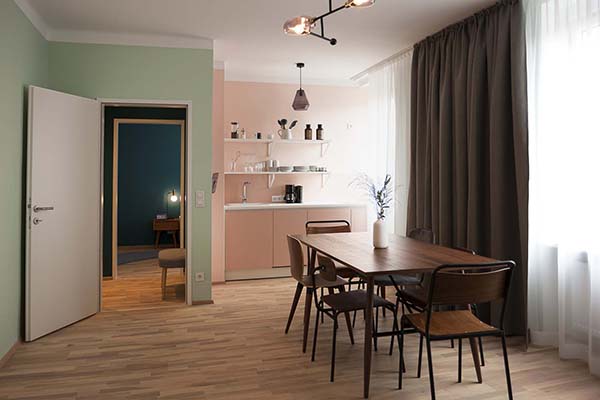 A concept that originates from design office KLK—shareholders of URBANAUTS, the hospitality brand behind this project—etagerie Linz features characteristic colours like old rose and pale blues and greens, paired with vintage furniture and contemporary touches. The city centre location provides easy access to the Linz art mile, Linzer Kunstmeile, and Lentos Art Museum; one of the most important museums of modern art in Austria.
etagerie, along with the URBANAUTS Hospitality Group, are committed to providing experiences "far away from popular and common touristic places". Blending cosiness with modern comfort, as well as living next door to locals and revelling in the real life experiences typical travel can sometimes nullify, etagerie Linz gives travellers a taste of authenticity in this widely-regarded creative hub. Whether you're here for the short term or a longer stay, these design apartments—with all their mid-century charm—deliver on style and substance.