There are few more sumptuous European cities than Vienna, and the Grand Ferdinand's lavish renovation has just raised the stakes here even further. Hotelier Florian Weitzer is the man behind four other top Vienna hotels and knows what works, and his latest place on the historical Ringstrasse brings to bear all his experience combining heritage with contemporary design.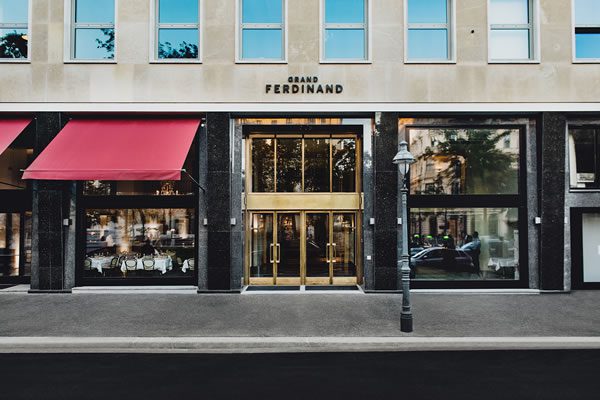 Grand Ferdinand by Weitzer Hotels, to use the correct formal title, revels in its surroundings on one of Vienna's traditional hotel strips. The boulevard has been welcoming guests since the 1873 World Exposition, and this hotel does an excellent job of evoking the glamour of times gone by without any sense of fustiness. Detail is key at the Grand Ferdinand. The chandeliers, for example, are a beautiful anachronism based on old designs dating back long before the building's 1950s' beginnings that have been remade by Vienna glassmaker Lobmeyr. The round, leather-rimmed mirrors above the bathroom sinks are a classic design by Gubi in the style of Jacques Adnet. Guests can enjoy a tour of the city in a vintage Jaguar. There's elegance at every turn.
The renovation has produced 188 guest rooms, plus three restaurants and a rooftop bar and pool. In a place where the Grand Suite runs to €3,000 a night and even the "standard+" rooms have a leather chaise longue and a mini fridge stocked with Mumm champagne — it's heartening to note there are also beds available in bunk dorms for just €30. Who says you can't do luxury on a budget?