Small yet exquisitely formed, Caldera House is a one-of-a-kind property in the Jackson Hole Mountain Resort area. A premier boutique hotel cum alpine club, Caldera House comprises eight luxury suites housed within a sprawling chalet; each equipped with multiple bedrooms and its own chef's kitchen.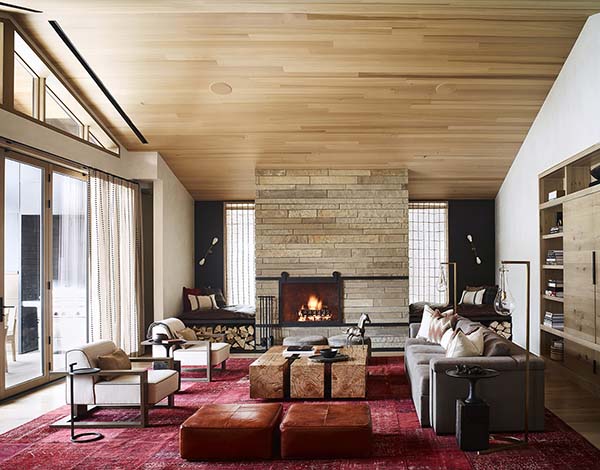 Blessed with the natural setting that Wyoming provides, guests here will to treated to the full immersive local experience, with concierge always on standby to offer expertise in the goings on beyond the hotel's walls for guests with a curious side; a world-class restaurant, lounge, bar, and retail experience for when you don't want to even leave the devastatingly handsome property
The suites—an updated take on the classic cabin—feature a collection of Americana and local art, adding warmth to European furnishings and custom oak millwork. Private balconies with snowmelt exterior patios offer guests unrivalled year-round mountain views, hot tubs, fire pits and gas grills add an overriding air of romanticism in the rugged wilderness. Design firms Commune and Carney Logan Burke have cultivated an aesthetic throughout that blends Euro design leanings with Americana-minded craftsmanship.
For those you choose to leave the sanctuary of their suite (and the chef's kitchen that completes it), chef Paulie O'Connor serves up Italian fare at Old Yellowstone Garage, a Jackson Hole institution since it arrived in 2000. From its new home, O'Connor's garage will present traditional Italian cuisine and wood-oven pizzas. For a more casual affair, diners can head to South Cable Cafe. Located next to the Jackson Hole Aerial Tram, it makes the ideal place to fuel up before a day on the slopes, and is open for breakfast and lunch with its slope-facing views.
Exclusive and light years away from expected Wyoming luxury, Caldera House and its facilities allow you to be as active as you want. Nobody's judging. Ski or slouch around your fire pit with unrivalled views. Style and European luxury, Jackson Hole's inimitable Caldera House sets new standards.