Step behind the neo-gothic façade—one hundred escutcheons and statues representing Belgium and its provinces—of a former Ghent post office, climb to its upper floors, and bathe in the magical postcard-perfect views of the surrounding city and beyond.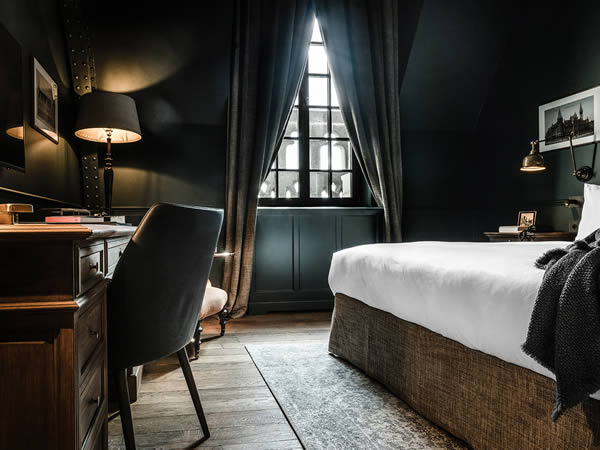 Occupying the upper floors of a veritable Ghent icon, 1898 The Post is an intimate boutique offering from Zannier Hotels with just 38 rooms and suites, each exuding warmth, personality, and a storied past. High ceilings and large windows bring a feel of spaciousness and light to the rooms; antique furniture from the 20th Century imposing the spirit of its roots.
Built by esteemed architect Louis Cloquet—the Belgian mastermind behind both the Station Gent-Sint-Pieters and Sint-Michielsbrug bridge—the Post Office opened its doors in 1909, going on to host the World Expo a few years later. A Ghent institute, Zannier Hotels were keen to preserve the authenticity that has made this monumental edifice so beloved of locals and architecture aficionados alike. Now occupying the two upper floors and retaining the beauty that led to it once being described as 'one of the best-kept secrets of Europe', 1898 The Post is a remarkable project with unparalleled heritage.
Historic and modern touches complement one another here—the height of technology rubbing shoulders with armchairs that hark to carriage coaches—whilst Cloquet's original sketches line the walls of its illustrious corridors, the history of the building inescapable, its tale told through the modernity of a new age.
The most microscopic of details carefully considered by Zannier's in-house designers, authenticity behind every decision; an open kitchen connect guests to the ways of the early-1900s; an honesty bar located in a tower overlooking Ghent's historic Grain Market; communal areas with open fires … 1898 The Post's connection to its story is around every corner. An emotive project carried off with exquisite authenticity.
@zannierhotels
@thecobblerghent