Invented and patented in 1998 as way for children and adults to learn about and explore magnetic construction, Geomag's products awaken a curiosity to build, understand, and create. Kits—available in varying sizes—contain magnetic rods and non-magnetic metal spheres which connect; providing the opportunity to build an abundance of structures and shapes.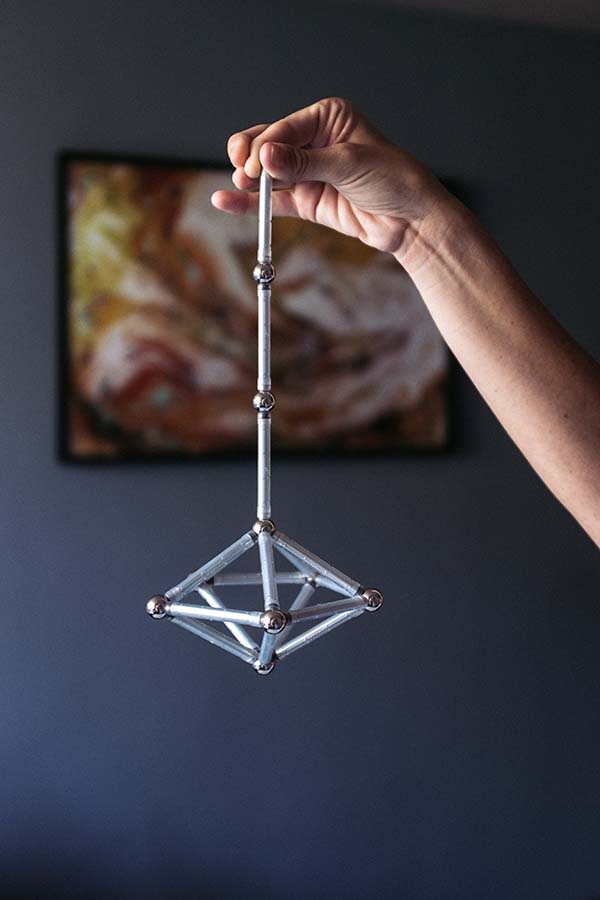 Hours can be spent learning by playing, and the majority of Geomag's products are recognised as supporting STEM learning; a term used to group the disciplines of science, technology, engineering, and mathematics. With magnetism and gravity, moveable mechanisms can come together, the possibilities of construction becoming endless with a little imagination, intrigue, and patience.
Recently getting my hands on a 'Fidget' and 53-piece Pocket Set, two entry-level products from the Geomag Pro-L range, I waded into the shallow end—finding the whole process entirely fascinating. An upgrade of the classic Geomag construction sets, the Pro-L range features a polarity indicator, which put simply tests positive and negative charges; the rods either attracting or rejecting one another, thus giving the creator an opportunity to gain a deeper understanding of magnetism whilst building solid structures with kinetic capabilities.
With 14 pieces, the Fidget is the smallest in the range, whilst the Pocket Set arrives complete with a metallic box to store the magnetic rods and steel spheres—both kits suitable for ages eight years and above. I began with an attempt to make the 'crocodile'. Requiring just six rods, I naively presumed it to be fairly straightforward, however—not yet fully understanding the 'rules of polarity'—would discover otherwise. Although the structure looked the same as the one in the video, thanks to magnetic attraction and repulsion it was not moving the way it should. A few more attempts playing around with positive and negative attractions, and I'd cracked it—smugly moving on to creating original objects using a greater set of rods and spheres.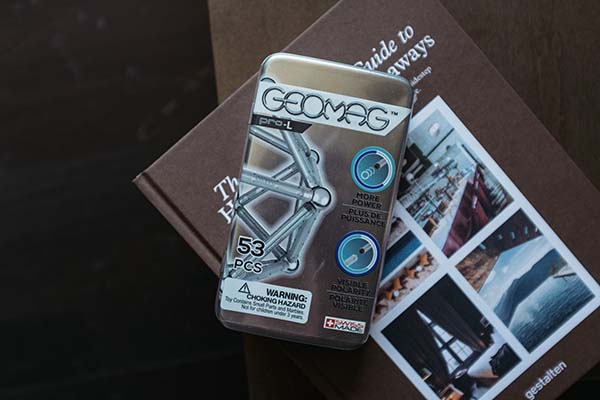 A fine way to pass a little time for the curious of all ages, Geomag's magnetic construction kits are an excellent example of learning through playing; and will likely become an obsession for the competitive and patient among us. With Geomag producing Pro-L kits with 75, 110, and 174 pieces (including plastic squares, triangles, and pentagons), and instruction guides showing building inspiration from the simple crocodile and ballerina, to cuboctahedronds, dodecahedrons, and—the easier to spell—snub cube, magnetism fans will get lost in the platform's versatility and endless creative inspiration. (It will also teach grown adults a thing or two about technical shapes and pronunciation.) Prodigious wannabe engineers can dive into advanced builds like the spiral; requiring some 870 rods, 221 spheres, 258 triangles, and 60 squares.
Giveaway
We have one Geomag Pro-L 174-piece set (RRP £90) to giveaway—all you need do is follow and like the Geomagworld Facebook Page, then leave a comment at the footer of this post before 5pm BST Friday 17 August. The winner will be notified via Facebook direct message, so please ensure you check your message requests folder.