Evoking the nostalgia of long hot summer nights, the stirring colour of the night sky and waves at the beach, Native Union's Indigo Collection sees the tech accessories brand apply a new heather blue colourway to their signature cables, wireless charger and soft goods; the eye-catching and emotive hue a perfect choice to complement the minimal details of the range.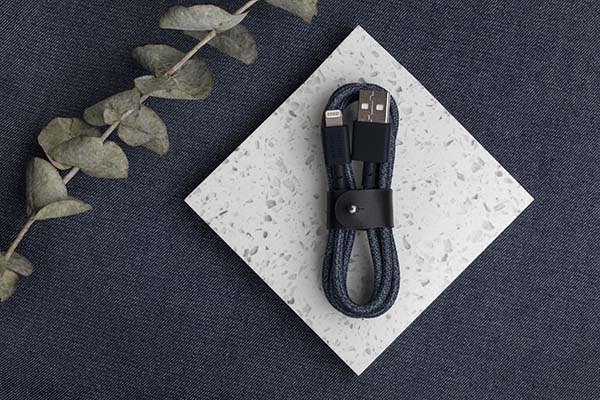 The moody summer collection includes Native Union classics like the Belt Cable and Belt Cable XL—the latter a 10-foot cord that allows you to say goodbye to tangled messes thanks to a leather strap that wraps the belt neatly—and the handy Key Cable, a petite charging cable and keychain with an oversized monkey knot that makes it easy to carry and locate.
There's also the Night Cable, a three-metre charging cable also with monkey knot, this time anchoring your fancy new phone to your desk or nightstand; and for those looking for a device that provides fast and secure charging for iPhone 8 and X series, whilst keeping it securely in place, the DROP Wireless Charger with a beautiful non-slip silicone tread is a step up in the style stakes from other wireless iPhone chargers.
Adding luxe to the collection are the STOW Sleeve for MacBook, a refined and lightweight solution for daily MacBook protection; and STOW Organizer, a slick little pouch to house all of your tech bits and pieces—all your cables chargers and whatnot kept stylishly in place. As thoughtfully considered as previous Native Union collections, Indigo promises to keep you connected and powered up; its rich heathered finish and Indigo colour ensuring that you do so in optimum fashion.
Elevating the everyday and making its mark in décor and fashion, Indigo envelopes Native Union's bestsellers in a typically timeless manner.