Clubbing in the 1990s was a very lo-fi affair. Dish up a smoke-machine, chuck in a strobe light, and it was: 'nice one, mate, sorted'. Stadium bands aside, the same went for gigs and festivals — and you were lucky if the visuals at the latter's dance stages went beyond a disco ball and a few lasers.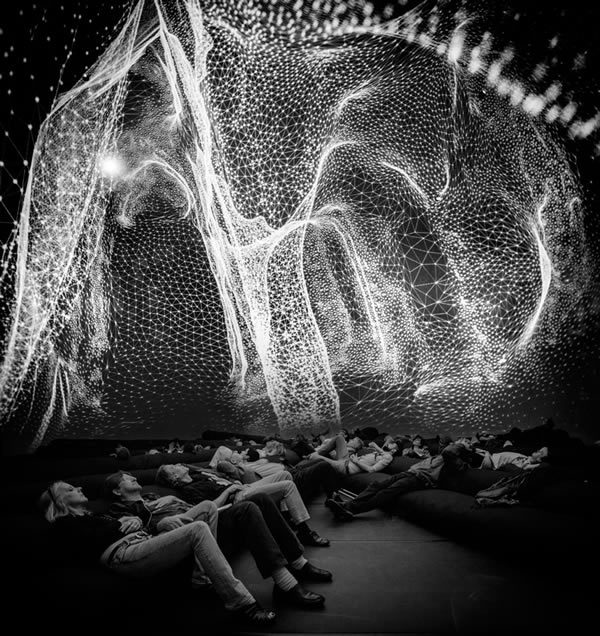 It is 2017, though. The future. And things have naturally progressed — immersive AV sets are intrinsically entwined into DJ and live performances, avant garde visual artists now harnessing the power of technology to ensure their work stands toe-to-toe with the intense sonic exploration of their musical counterparts. We are living in an age of unrivalled sensory stimulation. And when one talks of progressiveness in music and technology, there is a singular name that remains unshakeably attached to that notion: Sónar.
23 years in, the Barcelona-born festival has transformed traditional expectations time and time again. Pioneering experimental electronic music and its surrounding culture has fed off the innovative nature of the event, and the transformation of SonarPro, its accompanying record and technology fair, into Sónar+D in 2013 signalled a new dawn in the festival's march of progression. Now a fully-fledged culture and tech congress, Sónar+D extends Sónar's experimental leanings to the world of disruptive technologies; talks, workshops, exhibitions, installations, and performances all running in tandem with the traditional festival set-up.
Sónar+D's 2017 session is set to get underway — Björk will be in conversation; astronomer and cosmologist Dr. Dida Markovic will host a scientific lecture cum audiovisual concert and live documentary; a director of the Google Arts & Culture Lab will present their Artificial Intelligence projects; and creatives, startups, brands, and investors will come together under a common goal of innovation. Naturally, that doesn't scratch the surface, but one thing that has caught the collective eyes of Team We Heart is the Sonar360o program by Movistar+: a selection of fulldome pieces produced at Montréal SAT (Societé des Arts Tecnologiques) by some of the international new media scene's leading pioneers.
The entirely-engulfing projects — from creative talent like Joanie Lemercier, Will Joung, and Nicolas Nöel Jodoin — will embrace the senses of visitors to the dome venue with digital landscapes, unfolding architectural spaces and abstract immersion; progressive pieces that stretch the boundaries of performance and visuals. Two workshops, Introduction to immersive language and Spherical image production, will be hosted by SAT researchers in the same 360 dome.
Sónar+D 2017 runs 14—17 June at Fira Montjuïc, Barcelona.