Silence in an age of noise is a precious commodity. From our morning alarm to entering a world of discord; regular travel to the noise-polluted streets; the construction sounds of cityscapes frenetically changing; with disturbance all around us, modern living is louder than ever.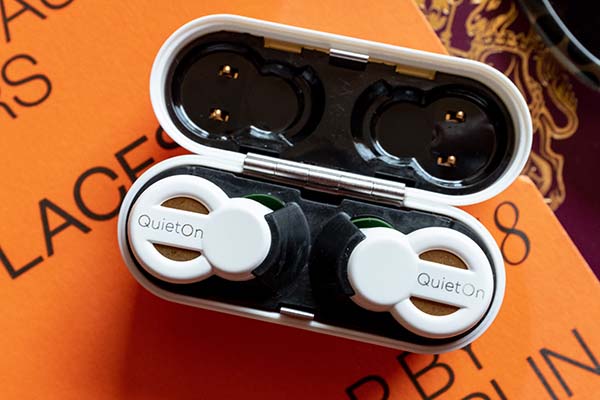 For years many have actively chosen to block out sounds, be that general noise, rowdy neighbours, travelling, at concerts and festivals, or if they're light sleepers; whilst some employees are expected to wear them at work, especially if work is a cacophonous environment. The type of earplug worn depends on individual needs, and have traditionally have been made using foam or silicone. Of course cost is always a factor, but can you put a price on getting your quiet on? After all, isn't silence supposed to be golden?
This is a concept that Finnish innovators Janne and Matti were familiar with, encountering endless noise on long flights or the daily commute. In a bid to introduce more serenity to their days, the founder and co-founder created QuietOn; setting about producing a pair of active noise cancelling earplugs that were compact, boast a decent battery life, and physically block and absorb sound before it enters the ear.
Funded via a crowdfunding campaign, QuietOn earplugs are wireless—meaning no tangled leads and no bad hair days; providing noise reduction through a combination of active noise cancellation and acoustic noise attenuation, creating a bubble of silence in an otherwise distracting world. Doing their best work at low frequencies, QuietOn will lower audible sounds typically encountered on airplanes, in heavy traffic, and through the wall; the latter providing me the ideal opportunity to test out the earplugs for myself.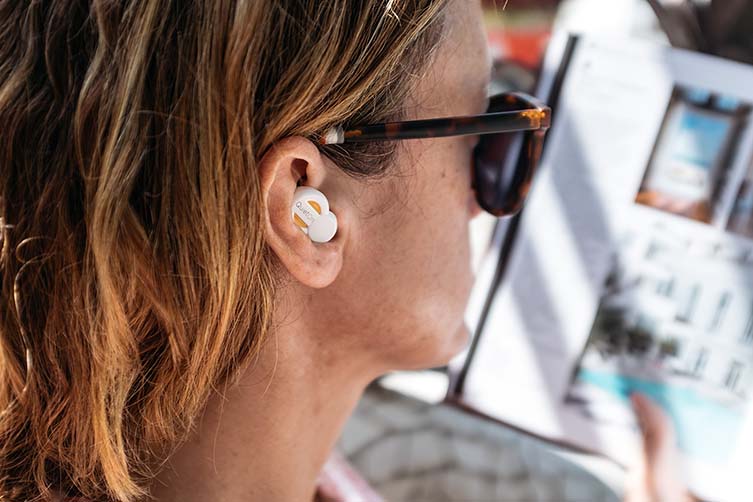 Our neighbours enjoying a second soiree in three nights earlier this week, I tiredly took my disgruntled self to bed, contemplating banging on their front door when I remembered the QuietOns laying in my work bag. Replacing the medium-sized foam buds with the small silicon buds found in the sleek package and placing them firmly and airtight into my ear, the sound of laughter and bad singing was completely eliminated; the voice of my partner akin to a radio with the volume turned right down.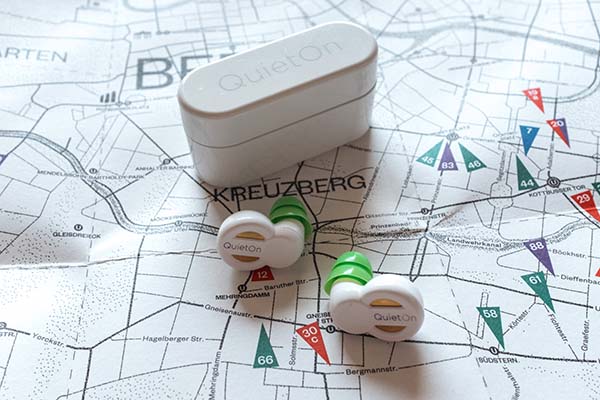 Complete with a carrying/charging case the size of your hand—making them perfect to travel with—each charge for the QuietOn plugs provides up to 50 hours of use; once this time is up, insert the buds into the case and connect it to USB charging cable. Priced at 179€, QuietOn's active noise earplugs might not be cheap, but work a treat. Simple to use, once you get the hang of how to, and their packaging compact, Janne and Matti's innovation is priceless for those with a disinclination to din.
For troubled sleepers or those that sleep next to loud snorers, QuietOn Sleep is also available now for pre-orders, with delivery commencing October. Whether it's snoring, soaring at 40,000ft, or simple seething at your neighbours, QuietOn have you covered in calm.