From the live moss installation that greets its members, to hulking hand-painted murals and an innate love for the natural world, The Assemblage John Street offers coworking, coliving, and social spaces to a 'community on the verge of a collective conscious evolution'.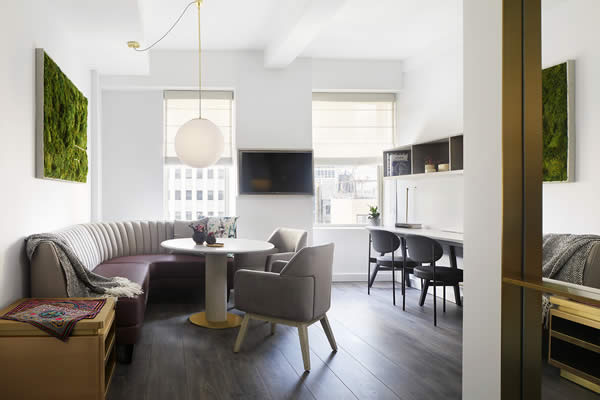 The second home for Rodrigo Niño's spiritually-conscious lifestyle brand that seeks to transition from a society defined by individualism and separation into one of interconnectedness, The Assemblage's new Financial District location features five floors of coworking spaces, a 79-room hotel designed for guests looking for long-term stays, daily wellness programmes, and a sizeable roof terrace.
With co-working membership categories to suit both your wallet and individual needs, Assemblage members can take advantage of nightly talks and events; flexible desks; individual work spaces and offices; daily meditation; and complimentary Ayurvedic breakfasts and lunches in a house that allows for maximum productivity during the work day, alongside time for networking, relaxation, and reflection come evening.
Situated in the heart of New York's Financial District, The Assemblage—an ongoing project that was initially crowdfunded by enough funds for three spaces—is ready and waiting to help you to foster personal growth and spiritual connection as it seeks to transform its members into a network of conscious change-makers.