Valencia-based creative consultancy Masquespacio have brought barrel-loads of gusto to a new Lyon eatery by way of their signature kaleidoscopic interior design; use of kitschy neon; and lush on-trend foliage.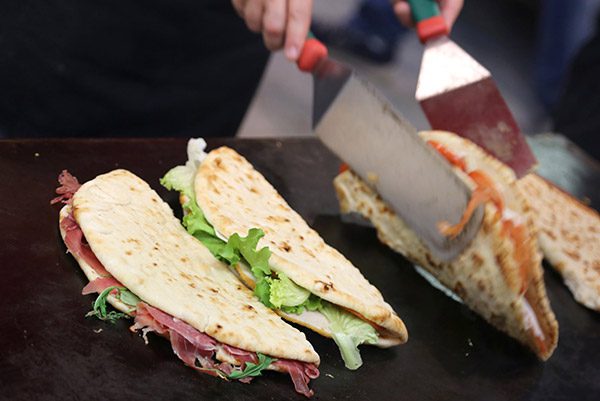 Housed within a shopping precinct in Lyon's up-and-coming Confluence neighbourhood—an area of urban regeneration, modern architecture, and design-led renaissance between the Rhone and Saone rivers—Piada serves up fresh piadinas, a flatbread made with flour and used as a side dish—or more typically as a sandwich—filled with ham, mozzarella, and tomato; alongside healthy salads and refreshing beverages.
A homage to the owners' Italian mother, and realising their dream of delivering authentic Italian fare to the surrounding French community, Arthur and Mathilde are mindful at Piada of respecting tradition, while combining that with modern and contemporary twists. Diners can enjoy their flatbreads in an endorphin-boosting environment, Masquespacio's use of tiles, pinks, and blues; natural materials; abundant greenery; and clever lighting elevating the young brand's impact on their cool community to the next level. Un po di Italianità (a little 'Italianity') reads the neon sign; a sentiment that never hurt anybody. Embrace Piada's Italian essence, be inspired by Masquespacio's signature aesthetics, and load up on Italianity!