The xx are the best band on the planet. Their music can seem like it's the only relevant thing in the existence of humanity. Their records can be at once bleak and disconnected; tender and intravenous. You feel every breath from Sim and Croft, every crackle of Smith's haunting virtuoso production, like they were your own heartbeat in a deafly silent room. Their songs can make you weep by just thinking about them. They also know a bit about putting on a show.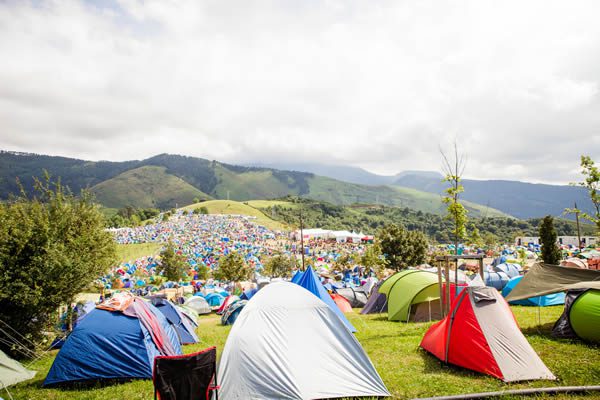 Five years ago they debuted their In Residence concept across eight days and 18 performances at the Manchester International Festival. No more than 60 audience members per show, huddled around the band who performed like a priceless antiquity in one of Europe's great museums. Last year they launched their Night + Day festival in Brixton; their favourite artists (Robyn, Kelela, Jehnny Beth … ) DJs (Floating Points, Joy Orbison … ) and films (Mark Leckey's landmark Fiorucci Made Me Hardcore, Lost in Translation … ) across eight days and nights.
This summer, that same concept will take place against the backdrop of one of the world's most iconic buildings: the Guggenheim Museum Bilbao. Night + Day Bilbao joins Hirian and Bereziak as city-based sub-festivals to this year's Bilbao BBK Live—the mammoth festival that occupies the lush green lands of Monte Kobetamendi, overlooking the de facto capital of the Basque Country—which The xx will be headlining; alongside Florence & The Machine and Gorillaz.
Descending from the paradisiacal pastures of Kobetamendi, this year's BBK brings over 50 bands and cultural activities to the city's streets; performances, markets, a record fair, and art interventions giving Bilbao a euphoric sense of spirit in the summer months.
Hirian comes to Bilbao La Vieja 26 May, the neighbourhood also hosting the X Bilbao International Record Fair between 26 and 27 May; Night + Day runs in the shadow of the Guggenheim Museum Bilbao 6 to 11 July; and Bilbao BBK Live caps it all off between 12 and 14 July. (Bereziak bringing the essence of the festival to the city's streets during those same days.) Tickets for all are on sale now at www.bilbaobbklive.com.
@thexx_nightandday
@bilbaobbklive