Sitting above its sibling restaurant on Melbourne's Little Bourke Street in Chinatown, LongSong is a new project between veteran Melbourne restaurateurs John and Lisa van Haandel in collaboration with long-time family friend, David Moyle.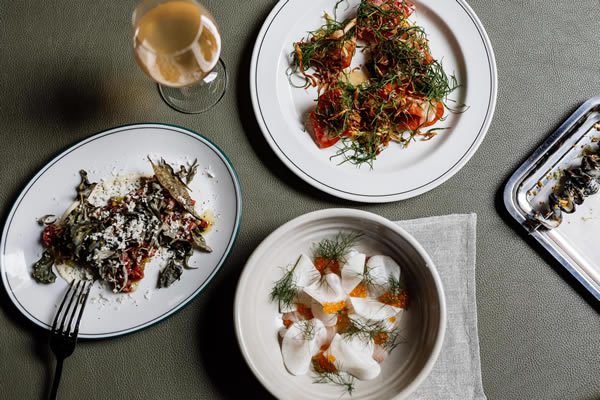 Whilst the menu downstairs at Longrain brings together South East Asian influences, Moyle—co-owner of Tasmania's esteemed Franklin, hailed as a rising star by The World's 50 Best Restaurants Academy—has conceived a menu which represents a variety of primary producers, brewers, mixers, and makers; the food a heady coming together of wood-grilled and barbecued meats, vegetables, and salads.
Located in a second storey horse stable, last used in the mid-1900s, LongSong retains many of the building's original features; the new restaurant now accessed using the original ramp that horses would trot up each evening. Exposed brick walls, loft ceilings, and the original stable floor make for an industrial space, warmed by soft light, a convivial atmosphere, and ample nooks and crannies to disappear into. "We set about to transform the incredible space above Longrain," says John van Haandel, "creating a new, casual, and relaxed bar atmosphere with a lighter palate than many Melbourne offering."
Going on to tell us that LongSong is a "little bit punk, a little bit rebel" (presumably there's a bit of horsing around going on), this impressive collaboration is billed as the naughty brother to the more mature Longrain. Clearly a stable investment for the trio, Melbourne's discerning hipsters won't be able to hold their horses.