Bursting with Middle Eastern flavours, diners at Superbaba can expect to chow down on falafel, shawarma, steak and 'sabich' (a rare delight of tempura eggplant, six-minute egg, cucumber, tomato, pickled carrot, tahini, shug, and amba)—all wrapped in what they what they call the 'best damn pita bread in the area'.
Healthy, delicious (in cases both vegetarian and vegan friendly), and fresh, the guys behind Victoria's Superbaba wanted a place where diners could enjoy high quality, quick-service Middle Eastern plates—sides include hummus, fried cauliflower, and Baba Ganoush—in an welcoming yet curious space.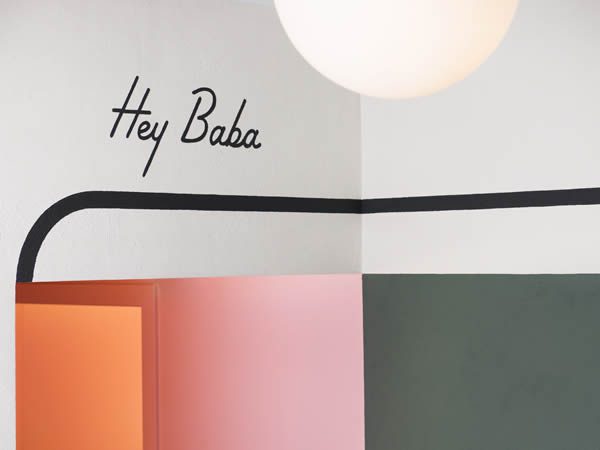 Calling upon Vancouver-based interior design studio, Studio Roslyn, to deliver just that, Superbaba's four owners—each with their own individual inspirations—gave the designers a modest budget with which the magic was made. Describing the space as "casual, thoughtfully referenced, and a bit quirky", the idea of Studio Roslyn's Kate Snyder and Jessica MacDonald was for the restaurant to create every bit as much conversation as the food.
The blue speckled quartzite countertop, off-white textured walls, and the warm wood tones were inspired by 'the homes of Lebanon grandmothers', whilst oversized globes of varying sizes are a gesture to mid-century design evident throughout the Middle East. Alongside artwork in the space, created by Studio Roslyn and referencing the oversaturated food photography seen in most donair (the Canadian spelling of doner, or döner) shops, pops of colour, and neon lighting, Snyder and MacDonald's riotous romp through diverse inspirations are as fresh as the Superbaba crew's mouthwatering pitas.
@eatsuperbaba
@studioroslyn
@ldzbar