With a blossoming food truck business going by the name of Le Tigre, Vancouver chefs Clement Chan and Steve Kuan are putting down roots and extending their operation to a bricks and mortar venue on Main Street.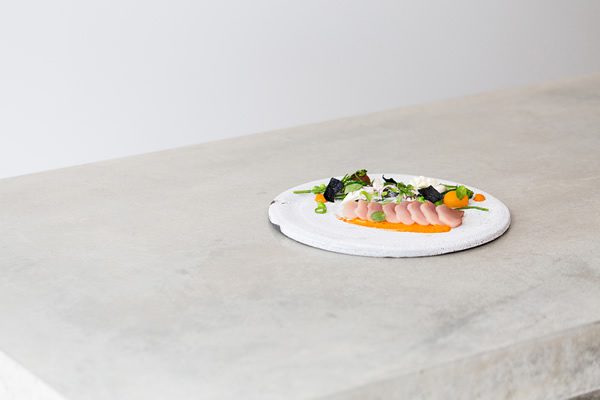 Torafuku allows the duo space to develop their successful pan-Asian, trad-contemporary menu within a utilitarian space designed by Scott & Scott Architects.
The double-fronted building lies on the outskirts of Chinatown, and dates back to 1901. It's a thoroughly modern place after the recent renovation though, dominated by the cast concrete communal table that runs down one side of the dining area in monolithic fashion. This is the most stark example of the architects' use of extremely hardwearing materials, left raw or simply finished, designed principally for functionality with the expectation of repeated use softening the look over time.
The architects' own studio produced the tables, benches, pendant lighting and hardware using harness leather, canvas trucking tarpaulin and painted metal work, with tactile textile panels on the opposite side to the concrete mass giving a welcoming balance to the dining area. The premises extends substantially towards the rear with large kitchen areas; Torafuku acts as both a restaurant and the food truck commissary.