Located in the heart of Mexico City's posh Polanco district, Busué Boutique Hotel blends years old architecture with modern touches. Busué is a stone's throw from the expansive Parque Lincoln—an oasis of calm and nature in the midst of one of the world's most pulsating metropolises—and the impressive Paseo de la Reforma; the 14.7 km boulevard home to Torre Mayor (one of Mexico's tallest buildings), public art exhibitions, and luxury properties.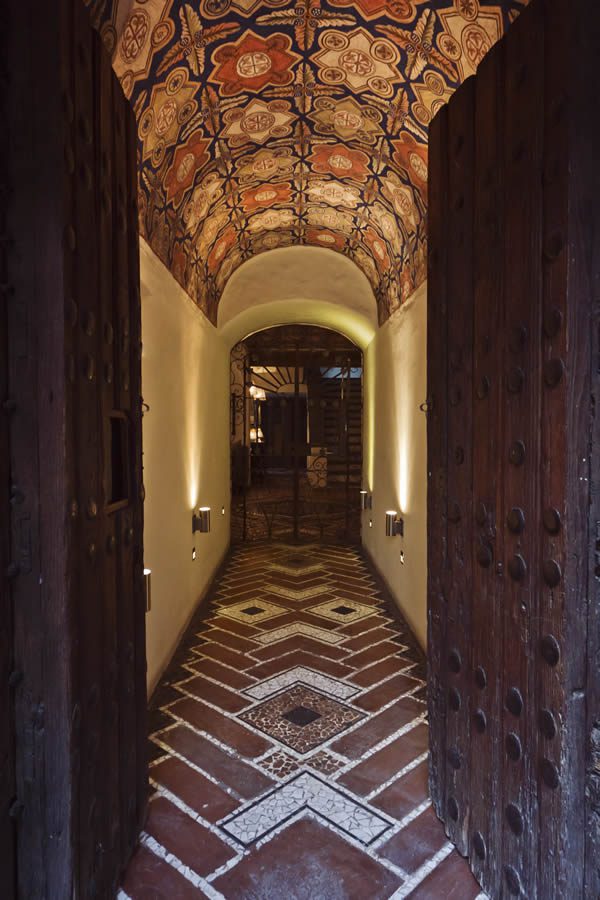 A cave-like enclave to retreat to after a tiring day spent exploring Mexico City's diverse neighbourhoods, the Busué—sharing a postcode with stylish bars, restaurants, boutiques, and galleries—has just 11 rooms, and the sort of hands-off service that gives you the sense of staying in a grand home rather than a hotel.
Calm and contentment prevails behind Busué's gated entrance, from the fine and plentiful freshly made-to-order continental breakfast to its cosy covered terrace—a gem of a spot to sip a coffee or glass of wine—and on to a small living room area (with one of the most beautiful ceilings you'll ever see) at the front of the property filled with an eclectic mix of old and new objects and furnishings; and that's all before you step into those generously sized bedrooms.
An immense period house where the use of quarry stone is in abundance, rooms are situated over two floors (below Polanco hotspot DIXON, a lively restaurant cum bar cum club that is currently attracting the city's beautiful people), and differ in size and layout without compromising on comfort and style. 500 cotton thread bedding envelopes kingsize beds, the addition of slippers and thick gowns an ingredient in the hotel's home-from-home feel. Bathrooms are large with raw natural materials, and have a distinctly different feel from the bedrooms—which are furnished with plush curtains, weighty wooden flooring, colourful art, and designer pieces.
Whether you find yourself in CDMX for work, pleasure, or both, the avant garde architecture and design at Busué Boutique Hotel—coupled with its fancy location—makes for a getaway that can seem a world apart from the city's more boisterous 'hoods; its connection to nature by way of imposing raw materials mirroring the calm of nearby Parque Lincoln, the high-spirited nightlife at DIXON a reminder of city life. In a city of many personalities, Busué and Polanco at large are ones worth getting to know.