Mexico City is an easy place to loose your purity: endless traffic, noise, cheap beer, mezcal, and a taco stand on every corner … you may end up yearning for someway to wash away your sins. A trip to pretty, laid-back Puebla, two hours to the southeast of Mexico City, is a good start. Even more so with a stay at hotel La Purificadora; set in a converted 19th century water-purification facility.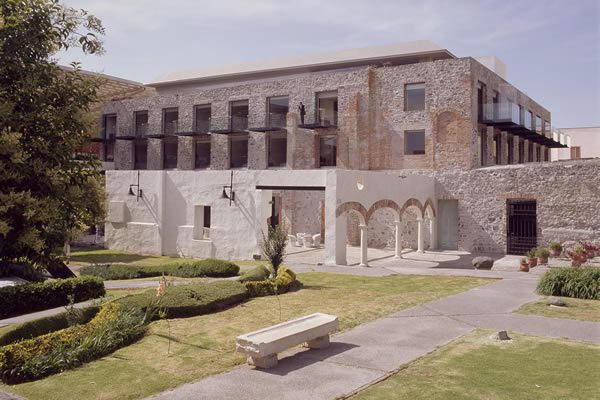 Aside from the building's former use — features like crumbling walls and stone aqueducts remain — the feeling of purity is continued in its modern, minimalist design (led by Mexican architect Legorreta + Legorreta) and a largely muted colour scheme.
La Purificadora's huge lobby courtyard is even open to the elements on one side, letting in a constant breeze as you climb its monumental black staircase to one of 26 rooms (named by letters A—Z) on the two floors above. Rooms are spacious, simply decorated with a wood table, lush bed facing a huge glass window overlooking the gardens, and clothes-rail made from clear Perspex.
Up on the roof terrace, things get a whole lot more interesting; bright purple sofas, giant hot tub, and swimming pool with clear glass wall — lending itself to many an Instagram moment swimming about like a human-sized fish in a bowl. The terrace also gives views out over Puebla, a UNESCO World Heritage Site, where the Mexican army famously defeated the French on 5 May 1862; celebrated annually as the Cinco de Mayo festival.
Nowadays, Puebla is a peaceful place to walk around — bar the army's daily 6am shooting practice — with churches galore, and attractive streets steeped in history. And, if you've had your fill of peace and purity, Puebla is also famous for inventing Tacos Arabe (think pork döner with cheese, onions and salsa). Hey, you can't be good all the time…