Polanco is one of Mexico City (and Latin America)'s wealthiest, glitziest neighbourhoods — home to high-end fashion boutiques, fine-dining restaurants, and high-rise big-name hotels like JW Marriot and Hyatt Regency.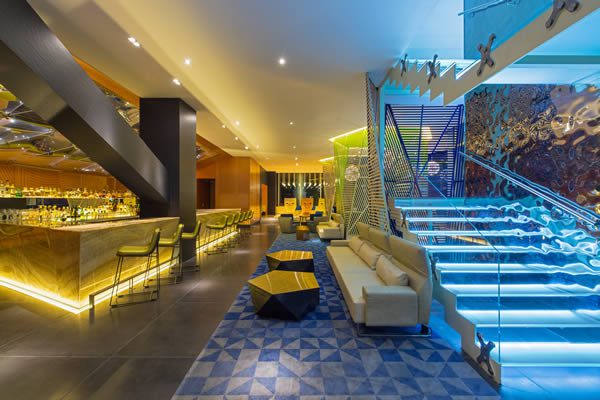 Mercifully laid back compared to downtown Mexico City, there's a distinctly cosmopolitan, international feel to the 'hood; streets named after famous figures — Tennyson, Churchill, and Newton — which says it all. But, in amongst its peaceful, glamorous streets, the W Mexico City manages to shake it all up a little; pronouncing itself with their ubiquitous gigantic W light-box out front, like a rebellious teenager with pink hair.
Its glass frontage allowing passers-by a glimpse into the decadent lobby and bar, music which is as loud outside as it is inside (yes that's the outdoor sound system), plus its open-air second floor terrace with giant red umbrellas; the W screams "look at me!". In another part of town it might seem ostentatious — here, as Polanco's sole rebel, it's a welcome burst of colour; energy; fun.
Inside the lobby, the usual W design theme runs riot; sleek black-tiled floors and rippled metallic walls that bounces light across the room, to the warm orange glow of the bar and its Instagram-ready plastic chairs with hollow faces that stare out from their rear. The breakfast room — which puts on a pretty mean spread each morning — has chairs constructed from branches and antlers, even the toilet signs are adorned with lucha libre masks. Beige just isn't in W's nature.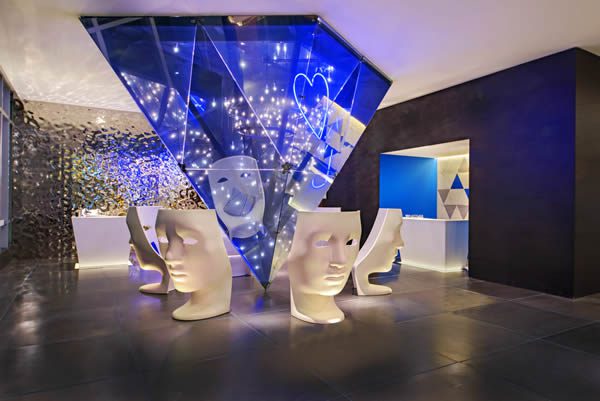 There are 237 rooms across the hotel's twenty-five stories, allowing for spectacular views of the city from floor-to-ceiling windows. We caught some pretty special sunrises from our room on level 12; jet lag having some benefits. The rooms are all white … literally all white … walls; floors; bed; drawers; the lot — so it's nice that soft furnishings add some splashes of colour. Bright purple sofas, a Frida Kahlo-print cushion and a pretty trippy mirror. (Don't look too long, it'll blow your mind.) There's walk-in shower rooms, a bed that lights up from below with a neon green glow, plus all the techie mod-cons you could need.
W Mexico City comes across as a mixture of beach resort and business hotel, both playful and practical, and it's a combination that works wonders here; in this exclusive neighbourhood north of Chapultepec Park. Rico!