Number One Gran Vía, Madrid; an intriguing past as the former home of esteemed restaurants and cocktail bars like Gula Gula and Sicilia Molinero. These days, visitors to the upscale shopping street will find La Primera located behind the ornate façade.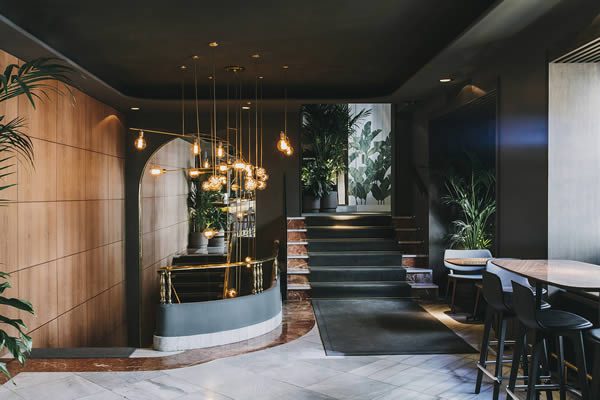 Designed by Tarruella Trenchs Studio, the space exudes casual elegance — a spot that draws you in to enjoy a coffee and breakfast, lunch, full dinner service; or perhaps just a cocktail. The extensive use of wood brings with it a warmth, whilst plants and wallpaper featuring vegetation motifs add a green freshness.
Split into zones, guests ascend a stairway to arrive at the central bar; with its impressive selection of wines and spirits on show. Two dining rooms sit adjacent, divided by upholstered banquettes and greenery, whilst — in the 'round corner' of the building — you'll find an area reminiscent of a living room. Decorated with low furniture pieces, wooden flooring and surrounded by windows; it's a relaxed enclave from La Primera's otherwise contemporary feel.
The third gastronomic project of Cantabrian chef Paco Quirós and Carlos Crespo, their roots are not overlooked here in the capital; the classic 'Las Rabas de Santander', being one of the restaurant's most popular dishes.
@RestLaPrimera
@TarruellaTrench