The bed. There are few pieces of product design so ubiquitous, no necessary to our very being, yet the space for our slumber remains a stranger to many a designer's portfolio. Perhaps it's the prohibitive necessities — there's precious little freedom to be had with its largest, and most essential asset — yet, as we will find, the ability to truly transform the sleeping experience is possible where there is will and guile.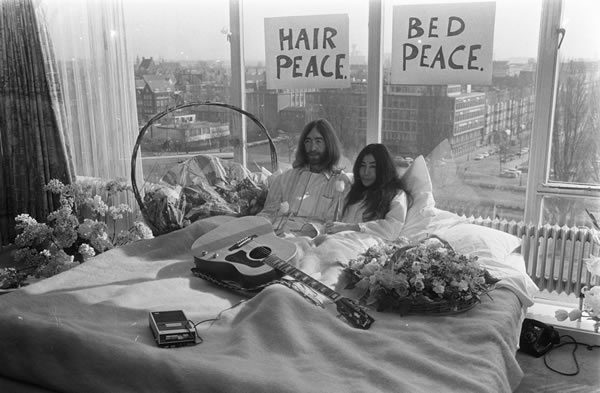 Some creatives have interpreted the bed as sculpture, others answered our holistic needs. There are iconic beds, controversial beds, beds that have defined generations: one unassuming mattress and frame combo at Amsterdam's Hilton, forever embedded in protest culture; a Scouser and a Japanese artist taking to it on 25 March, 1969, for an exceedingly long lie-in.
Beds, it would seem, can be as creative as an artist, designer, or famous protestor dare dream. Looking at a series of beds that have defied convention, in collaboration with Bed SOS, we've pulled back the sheets on kitsch '60s space-age reveries; connected beds and infamous beds; places to ponder; places to be inspired. Roller coasters to hamburgers, authoritative design movements to alcohol-fuelled pigsties. Most of all, we've found creative solutions that toy with our notions. Here is our run down of the world's most creative beds …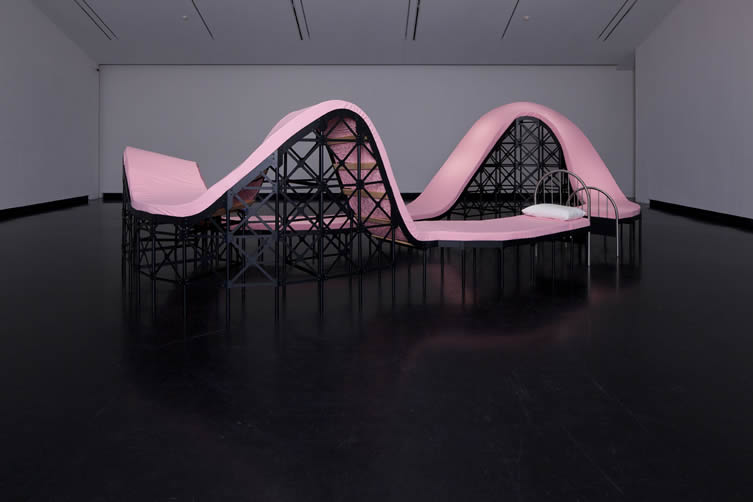 Los Carpinteros' Roller Coaster Bed
Founded in Havana in 1992, collective Los Carpinteros are one of Cuba's most significant contemporary art exports, and have somewhat of a fascination with beds. Creating works that 'negotiate the space between the functional and the nonfunctional,' their crafted works (Los Carpinteros translates as The Carpenters) inspire with humour and fantastical whimsy — this bed turned roller coaster is one of the duo's most spellbinding works.
Archizoom Associati, Dream Beds
Together with fellow Florence design firm Superstudio, Archizoom Associati (active between 1966 and 1974) invented Superarchitecture — a movement that saw the principles of Pop art applied to the design world. Their kitsch creations were bold and brilliant statements of intent that irreversibly broke moulds in the design industry; Archizoom's series of Dream Beds represent some of the most outrageous designs ever to enter the bedroom.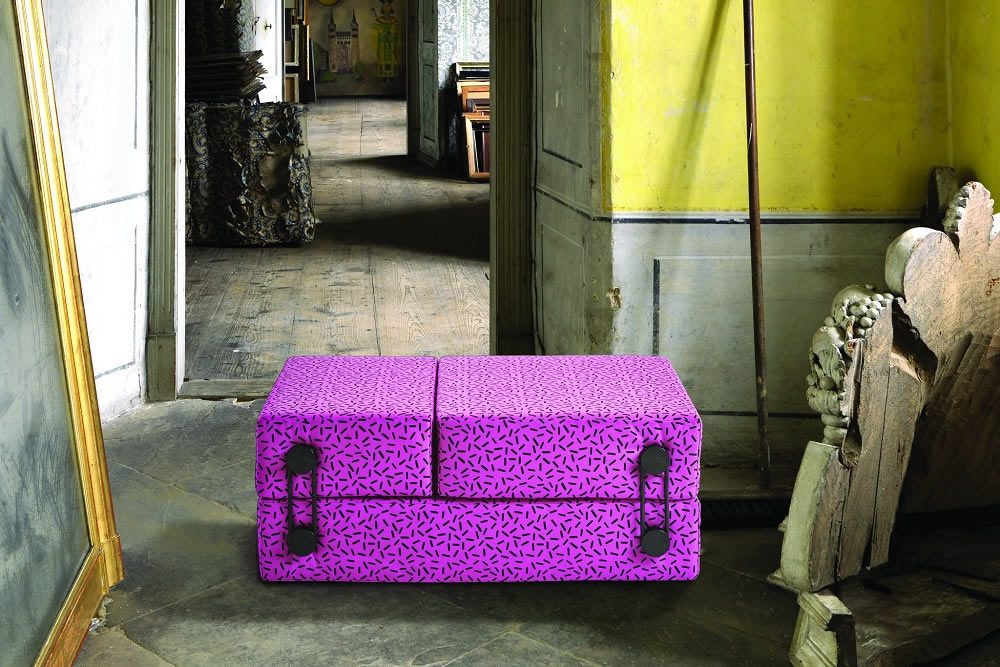 Kartell Goes Sottsass, TRIX
Pouf, chaise longue, bed? TRIX is all three. And more. A multipurpose piece of furniture that not only looks the part, but suits our cramped contemporary lives with its fold-away flexibility (three connecting elements afford this avant-garde piece its adaptability). Designed by Piero Lissoni for Kartell's Kartell Goes Sottsass collection, TRIX puts a fabric design from the late great Italian architect and designer Ettore Sottsass to use; a fitting tribute for the Memphis movement enjoying its second moment in the sun.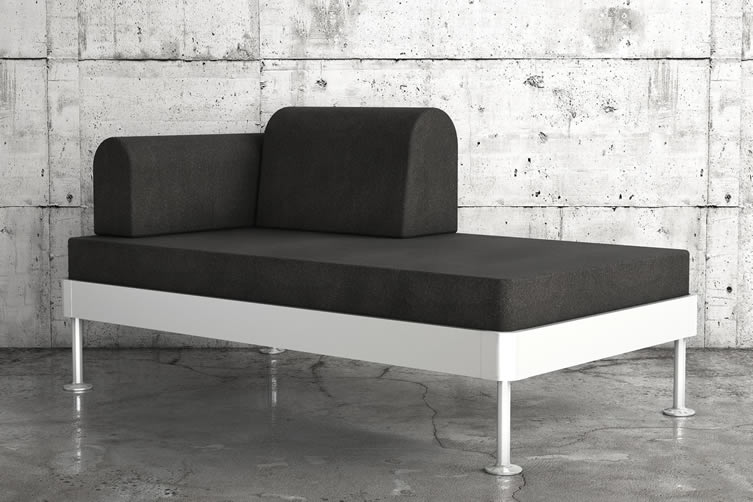 Tom Dixon for IKEA, DELAKTIG
IKEA joined forces with Brit design superstar Tom Dixon to present the DELAKTIG modular bed and sofa at this years Milan design week. Designed as an open-source platform for living that can be transformed through third-party add-ons, the bed can essentially be anything the buyer wants it to be. Featuring an aluminium frame, DELAKTIG will grow over time as sub-suppliers jump on board with additional extras, Dixon explaining: 'DELAKTIG is an experiment that challenges the conventional methods of creation and distribution of furniture. It's a bed first but it can turn into anything'.
Michele de Lucchi's Memphis Beds
Born in 1951, Italian designer and architect Michele De Lucchi was a prominent figure in the Memphis postmodern design movement; founded by Ettore Sottsass in 1981, and currently in the midst of a significant renaissance. His Grand Lit bed was one of several pieces contributed to the collective and was the bed of choice for a certain Karl Lagerfeld, whose Monaco apartment was a shrine to the movement in the early 1980s.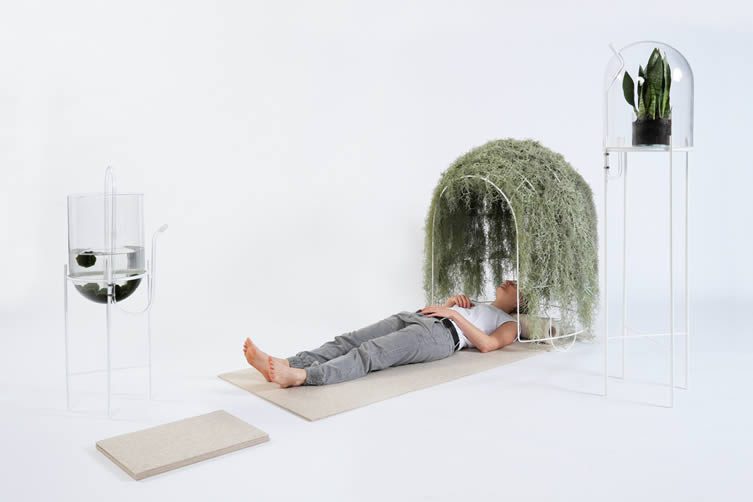 Judith Fassbender and Benjamin Schief, IN/OUT
In/Out by Judith Fassbender and Benjamin Schief serves as an interface between humans and plants, it's a place for contemplating and self-cleansing and consists of three interconnected objects; one of which could be the world's most holistic bed. As the plants involved require humidity and CO2 to survive, the human uses his breath to keep the cycle of life in full swing. Zen? You better believe it.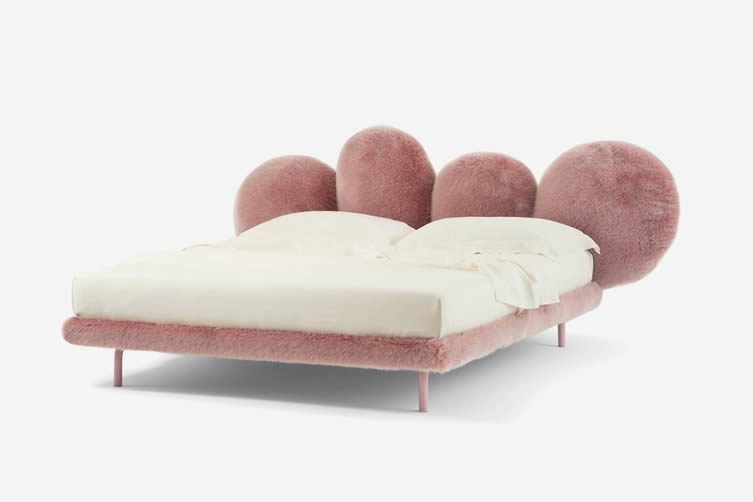 Fernando and Humberto Campana for Edra, Cipria Bed
Four furry pink pillows fix to a metal structure to make up the headboard of an object that looks somewhat like a giant rabbit. In fact, the creation is Edra's Cipria bed, designed by brilliant Brazilian brothers and designers Fernando and Humberto Campana, and is covered in eco-fur; characterised by soft hairs which make for its strokeable appeal. Just the sort of thing to hop into at the end of a long day.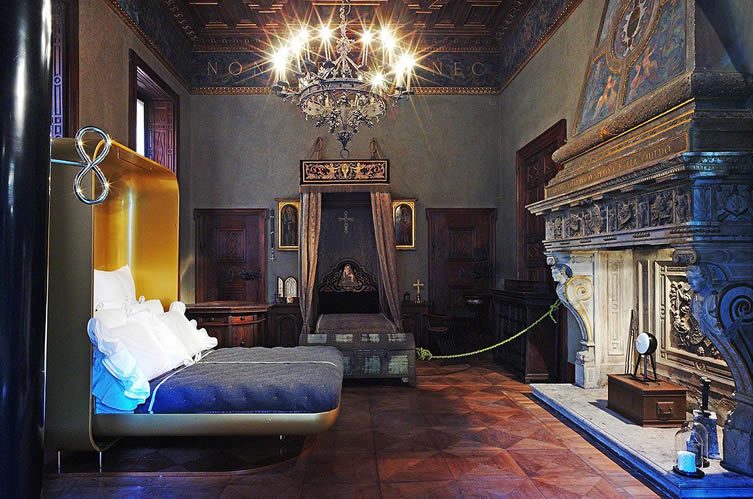 Nika Zupanc for Rossana Orlandi, Forever Bed
Shown at Milan's Salone del Mobile in 2014, the Forever Bed, produced by Slovenian designer Nika Zupanc for Dormeo, is based around the credenza: a place for hiding what Zupanc calls 'the things we love and fear at the same time'. Capable of folding up into a lockable cupboard, the oversized key serves also as a leg to the bed — made from lacquered wood, brass and limited to just three pieces; your chance of bagging the world's most whimsical fold-up bed has likely already passed.
Yusuke Suzuki, Book Bed
If I were few years younger … who'm I kidding, right? … this fanciful proposition is any book lover's dream bed, regardless of age. Big enough for story-time with parents, all your siblings; an enormous sleepover; or simply stretching out alone, not only is photographer Yusuke Suzuki's book bed big enough to get lost in, but with sheets resembling flippable pages, you can dream that you're the protagonist of your very own fairytale.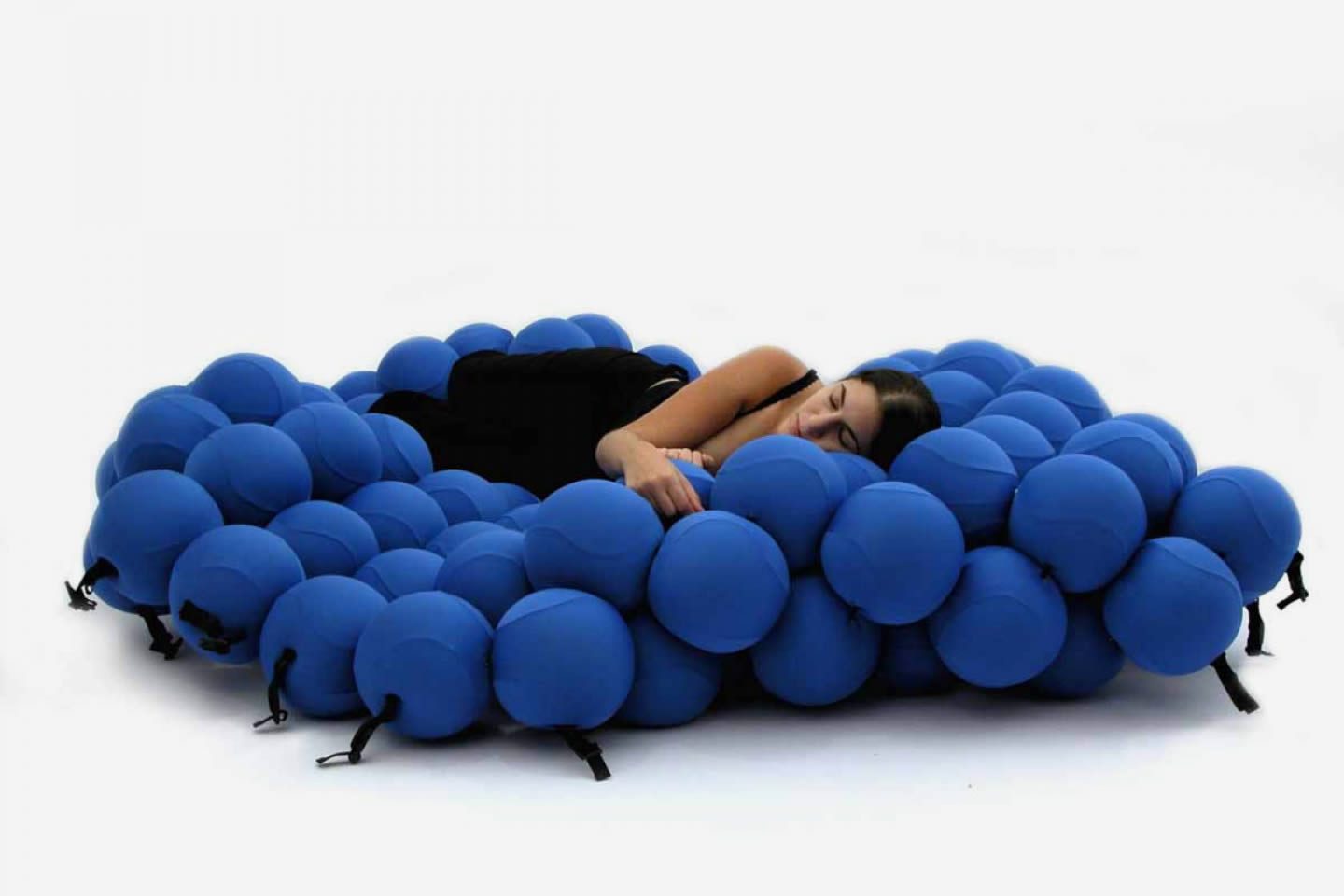 Animi Causa, Feel Seating System Deluxe
Animi Causa's Feel Seating System was designed to reflect the changing movements of the human body. Made up of 120 foam balls, each covered in stretch fabric, the 'system' offers enough room for one or two people to sit on or sink into; making this flexible piece of furniture the ideal statement piece for bedroom, living room, or play room.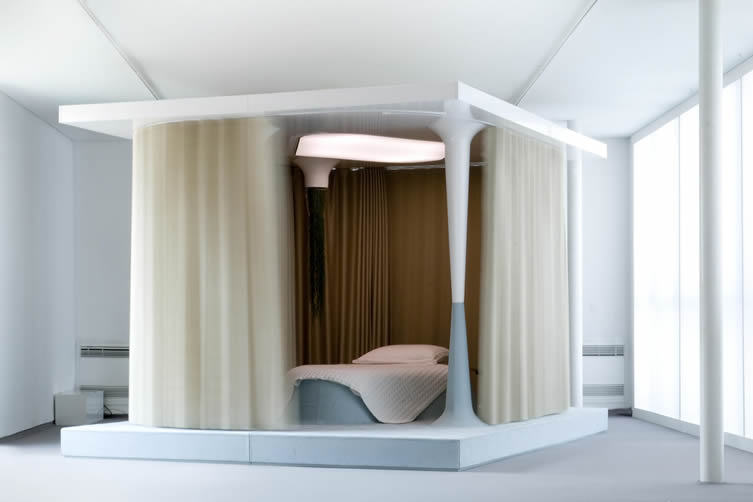 Mathieu Lehanneur for Veuve Clicquot, Once Upon a Dream
Conceived for Hotel du Marc — champagne giant Veuve Clicquot's private hotel in Reims (and by private hotel we mean, by-invitation-only hotel — Once Upon a Dream by French designer Mathieu Lehanneur is part place to sleep, part fairytale and home cinema. It's a whimsical looking object that features an automatic closing curtain; temperature control; a gradual decline of lighting; and alarm clock. Once Upon a Dream was based on the work of Dr Alain Nicolas, who once proclaimed: 'one never sleeps perfectly synchronised with two'. Clearly a lonely chap.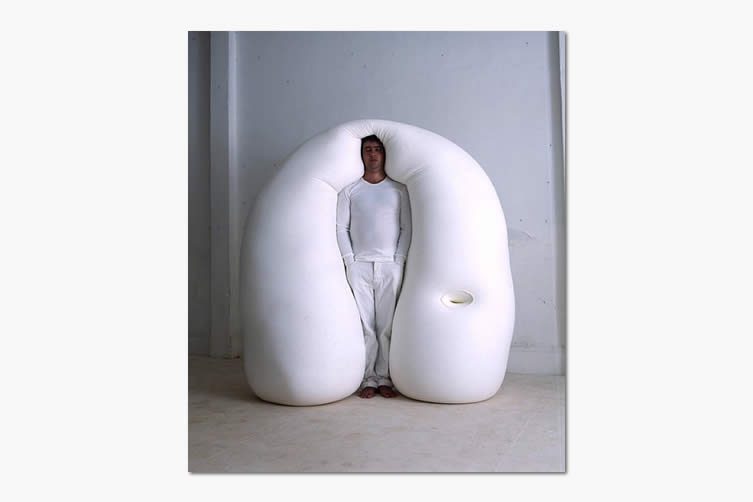 Ernesto Neto's Standing Bed
This vertical bed by Brazilian contemporary visual artist Ernesto Neto is more art than bed, however, with its marshmallow appearance — it's a piece of art that sure looks inviting. Designed as a display piece only (boo), the brilliant Rio de Janeiro-born, -bred, and -based artist's installation features a big, bulky mattress which — despite its unusual position — could've gone down quite a treat during some of our more lengthy airport delays.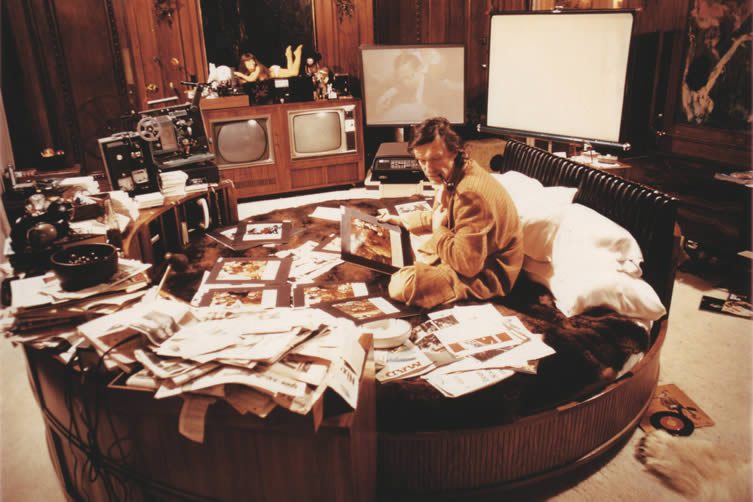 Hugh Hefner's Circular Playboy Bed
One of the world's most famous beds, the Playboy magnate literally ran his empire from this circular bachelor pad staple strewn with articles, notes, photographs, and ashtrays. Initially a worthwhile cultural digest alongside the obvious, Hefner's magazine held a torch for the contemporary design and architecture of its day during the '50s and '60s; interest in this curious parallel has piqued in recent years thanks to the travelling exhibition, Playboy Architecture: 1953–1979.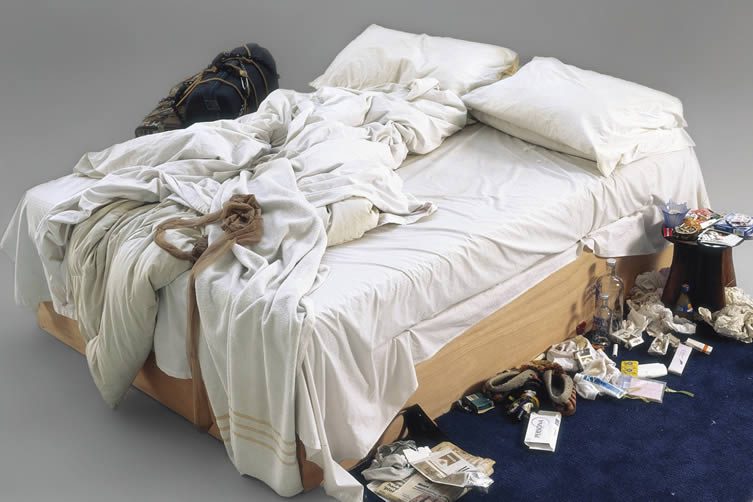 Tracey Emin, My Bed
Created by Tracey Emin in 1998, My Bed caused a mountain of controversy thanks to the stained bedsheets and dirty underwear (amongst other lewd ephemera) strewn over and around it. Shortlisted for the Turner Prize in 1999, it didn't win; although its notoriety has never waned. Inspired by a sexual yet depressive phase in Emin's life, the artist created it almost by chance — an alcohol-fuelled few days in bed resulting in a repulsive mess. My Bed was initially bought by Charles Saatchi for £150,000 and formed part of the first exhibition at the Saatchi Gallery's County Hall gallery; but went on to be sold at Christie's in 2014 for an eye-watering £2.5 million.
Elvis Presley's Hamburger Bed
We're all too aware of Elvis Presley's love of hamburgers — an obsession that would lead to his remarkable weight gain in later years — but do you know just how deep that affection ran? Seemingly pretty deep indeed. Elvis and Priscilla slept in a big, round, technology-stocked, velvet bed at Graceland; and daughter Lisa Marie affectionately christened it as the 'hamburger bed'. Sold on eBay in 2007 for $50,000, let's hope the lucky recipient (although lighter in the wallet) is sleeping on that mouthful of rock and roll memorabilia as soundly as a King.
Our run down of the world's most creative beds has been produced in collaboration with the fine folk at BedSOS. Visit BedSOS to peruse their gargantuan online selection.