Joie de Vivre Hotels' 1950s San Francisco design icon, The Laurel Inn, has undergone a recent multi-million-dollar renovation; gracing the Presidio Heights neighbourhood with long-awaited hip, urban-minded accommodation.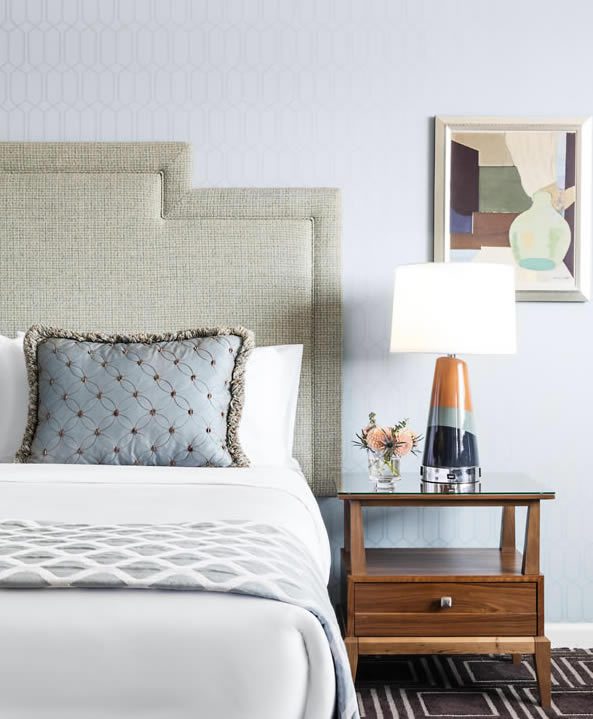 Situated in an area renowned for its green space seclusion from the urban bustle, the 49-roomed pied à terre — surrounded by food, shopping and drinking hotspots — is a sophisticated retreat; an opportunity for its guests to unwind, laugh and play. Joie de Vivre founder, Chip Conley, is the former head of global hospitality and strategy for Airbnb and the lead ownership partner here, which means The Laurel Inn is putting millennials and digital nomads firmly in its sights; co-working and a local mindset key to its intentions.
Interlacing the midcentury modern savoir faire with a contemporary edge, the hotel's design heritage prevails throughout. Spacious rooms (many with private kitchenettes) feature luxurious updates on quintessentially '50s fabrics (those cushion tassels), subtle colour palettes and retro-inspired custom furniture — as glamorous and stylish as it is comfortable and inviting, designer Oren Bronstein was impassioned to give the place the same vibe you'd find in a neighbourhood residence. Community and public spaces are everything here, and Bronstein has redesigned the lobby to emulate an upscale living room; artwork from local artists help it to feel familiar and welcoming whilst providing an urban edge.
A space for savvy travellers, The Laurel Inn gives today's nomadic workers what they're calling a 'home-instead-of-home', celebrating non-invasive service and offering thoughtful additions like freshly-baked cookies from local Batter Bakery; a custom-illustrated neighbourhood map; a partnership with the oldest independent bookseller in the United States; and cruiser bikes for rent. Jaw-dropping views of the city add to the glamour factor, whilst the fancy Swank bar and lounge is the perfect place for a tipple of choice and natter with likeminded travellers and locals alike.