In an old smokehouse just off Hull's emerging cultural epicentre Humber Street, a writhing network of paper seaweed hangs from its wooden rafters. Created by Bethan Laura Wood, a London-based designer known for her flamboyant collisions of colour, the kelp-like lengths have been crafted from Colorplan (a range of colourful stock made by local paper manufacturer G . F Smith) and dance around the lofty space casting underwater shadows on the smokehouse walls.
The installation, called Seaweed Kites, is one of eight pieces created for G . F Smith's Paper City project as part of Hull's year as UK City of Culture, which has seen the East Yorkshire City transform into a hotbed of creativity and regeneration. Many of the artists involved used the project as an opportunity to experiment with the potential of paper beyond its usual 2D form.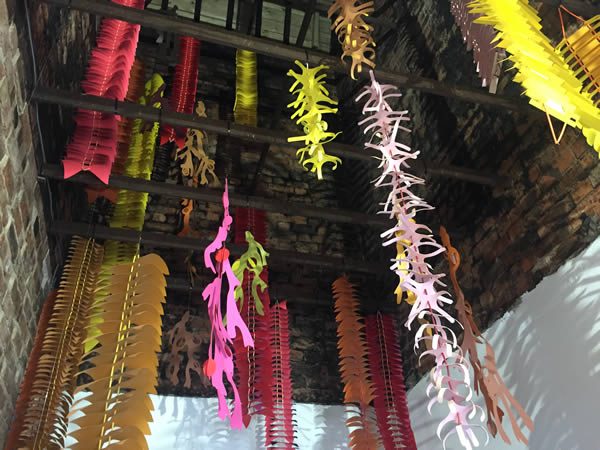 "It was great to have time to play with the paper," Bethan says. "Different stocks behave differently, for example the brown paper stock is a lot softer in its behaviour so it works better for some types of curling seaweed than others." Like several of the artists, Bethan chose to work with G . F Smith's in-house machinery to create Seaweed Kites, using its cookie cutter-like knives to slice the elements and folding them with a machine normally used to make boxes.
Max Lamb, a designer best known for his fascination with industrial processes and materials, made a prototype range of furniture from chunky 35,000gsm slabs created by gluing the entire range of Colorplan sheets at the edges with padding adhesive as you would a notebook. Each of the tables — which range from tiny lamp stand to huge desk — are made from standard paper sizes like A3 and A4. Somewhat less functional but equally inventive, Manchester-based artist Lazerian created a 4m-long paper cod inspired by Hull's long fishing industry, with shimmering laser-cut scales on one side and revealling anatomically perfect paper fish guts on the other.
Colour was key for London-based graphic designers Made Thought and artist Jacqueline Poncelet. Made Thought worked with G . F Smith employees to create a woven paper blanket where the order of the vertical stripes was dictated by when it was introduced to the range. Jacqueline filled an unused shop space with a sea of concertina books, challenging herself to make each colour combination unique. Architect Adam Holloway and artists Joanna Sands and Richard Woods each chose to investigate the architectural potential of paper in their work. Joanna developed a tonal weave of curved shapes inspired by light and cloud, Adam used complex 3D modelling software to create an undulating room-size sculpture from flat paper nets, whereas Richard used large brick-like wallpapers to signpost local regeneration hotspots.
With so much inspiration and investment pouring into Hull at the moment, keep your eyes peeled as the city morphs from industrial to cultural powerhouse, this year and beyond.