Now in its fourth edition, Willoke is an urban contemporary art festival that invites guest artists to beautify walls throughout three municipalities between the Irpinia and Daunia areas of south Italy's Campania and Puglia regions.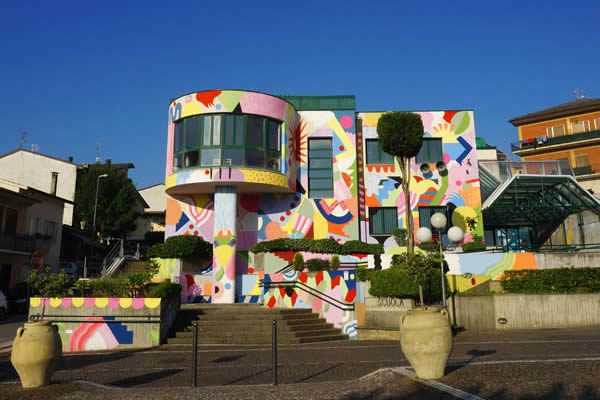 Bulgarian street artist Nasimo opened this edition of the Willoke festival back in April, painting a mural entitled The Chains on a school in the village of Monteleone; depicting a girl dressed in feathers and bound by chains, in which Nasimo conveys how people have to 'cut off the strings and the chains to finally join the free souls and to begin their real journey'.
Italian artist Frode (along with Spanish artist Joan Aguillò) painted the next walls, this time at the foot of Mount Vesuvius. Inspired by Demetra (which is the focus of this edition), Frode's features two horses — one white, representing the world of ideas, and one black, embodying primal instincts — that are based on ancient traditions of the Roman Empire.
American-Japanese artist Mina Hamada and long-term collaborator Zosen Bandido joined the festival in Vallesaccarda, a province of Avellino, Campania; where the Barcelona-based duo dramatically transformed a youth cultural centre with their now signature bolts of colour and psychedelic whimsy.
The festival continues until 20 July (before taking a summer break and rebooting in September) and welcomes its final guest artist, Brisbane-based Fintan Magee — who was once dubbed Australia's Banksy, and is renowned for creating works that deal with environmental issues. Sticking to that script, Magee's mural will go up in the hill town of Monteleone di Puglia and is set to tackle the very real problem of climate change.